One week. Seven days. You know what I am getting at.
In other movie news, that doesn't rhyme with "car boars", we've got a great slate of new movies this week! Chris Hemsworth is back in theaters taking on giant whales while Ron Howard directs. Steve Carell and Christian Bale star in a new, surprising drama from Adam McKay and everyone's favorite mumbly Englishman, Tom Hardy, is back and there's two of them!  Check out the full list of what is coming out this weekend and let us know what you are excited to see!
[divider top="no"]
Opening In Wide Release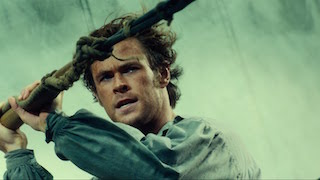 Originally slated to release in March of this year, it was delayed to release in December based on the confidence Warner Brothers and Village Roadshow Pictures have in this movie to compete during awards season. As far as box office goes it will be competing against some giants and the immovable object that is The Force Awakens, so the whole production group must really believe in this movie.
Directed by Ron Howard and starring Chris Hemsworth and Cillian Murphy, the movie is based on the 1820 events that inspired Herman Melville's Moby Dick  of a whaling ship and its crew being preyed upon by a sperm whale. The intense sequences we have got to see in the trailer look breathtaking, and this was a movie we all had our eye on here when it was originally set to release in March. If you get the chance to check it out, let us know what you thought!
[divider top="no"]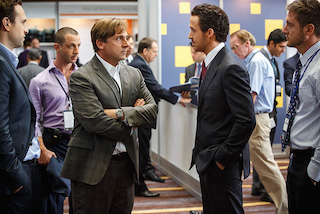 I am going to level with you. The trailer for this movie is not very good. I hadn't seen it in any theater up to this point, and getting a chance to watch it kinda makes me glad I didn't. Long before I peeked at it today, I had been hearing great things about the movie and it seemed to come out of nowhere.
An exciting and intriguing aspect of this movie is Adam McKay writing and directing the movie. Typically working with people like Will Ferrell and his cadre of comedic actors, McKay collaborates in this movie with Steve Carell, but it is in a dramatic role along with Christian Bale, Ryan Gosling, and Brad Pitt. Quite the odd assortment of characters that is sure to deliver something of interest and different than what we would normally see in a dramatic movie.
The movie itself details the true events of four men working in high-finance who are outsiders to the very insider events of the housing bubble and credit crash in the mid-2000's. They worked to take on the banks and bring those responsible for the greed and ineptitude that brought on the crash to justice. It looks incredibly interesting and the cast is stellar. Really looking forward to seeing this movie, which is not something I thought I would say!
[divider top="no"]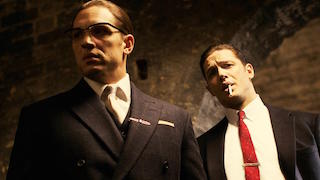 Although we have already previewed this movie, it is worth mentioning again as it has gained a nationwide release. The movie is the story of identical twin gangsters, Reggie and Ronnie Kray, they are both, naturally, played by Tom Hardy. Honestly, it should be enough for me to write his name and everyone goes and sees the movie. Hardy has slowly crept up the list of my favorite actors and any movie he is in is a must-see for yours truly. While the movie has been getting mixed reviews, it won't stop me, and it shouldn't stop you. Hardy is a mumbly, muscley force, and seeing this movie should be your top priority. You're welcome in advance.