On this episode of the Reel World Theology Podcast: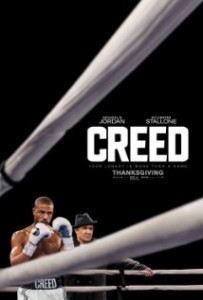 Creed does two things we have already seen done this year (and we'll see again!); it breathes life into a long established franchise (ie. Mad Max, Jurassic Park, Star Wars) and is also the seventh film in a franchise (Fast & Furious, Star Wars). It is hard to believe that going to the well that many times could produce something good– much less necessary– but Ryan Coogler gives us a boxing movie that hits us in the heart as much as it does anywhere else. Find out how a boxing film can be one of the more satisfying films of the year.
Download Episode 082 Here:
Reel World Theology #082 – Creed and Creating a Legacy
Reel World Theology on Stitcher
Reel World Theology on FeedBurner
This episode's panel included JR Forasteros and Reed Lackey.
JR Forasteros (@jrforasteros)
JRForasteros.com
NorvilleRogers.com
The Storymen Podcast
Origami Elephants Podcast
Reed Lackey (@reedlackey)
More Than One Lesson Podcast
ReedLackey.com
Podcast Notes and Links:
Creed at IMDB
Creed at Rotten Tomatoes
Creed Review at Reel World Theology
Creed Review at Reel-Gospel
Ryan Coogler On Why He Shot That Creed Fight In One Take at Metro
Creed Review at Christianity Today