On this episode of the Reel World Theology Podcast: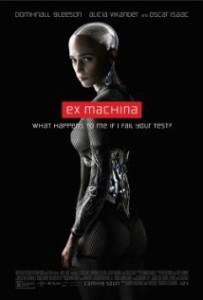 Sometimes limited release films fly under the radar until they just get enough buzz that they can no longer stay there. This is the case with Ex Machina. We thought about talking about this on the podcast when it was in limited release earlier in the year but enough of us simply could not catch it while in theaters. With its release on streaming, it has finally developed a wider audience and deservedly so. A thrilling sci-fi story about AI and man's relation to it unfold in what ends up being a very simple, yet very beautiful smaller film. This film gives us plenty to try chat about– especially the ending.
Download Episode 071 Here:
Reel World Theology #071 – Ex Machina and a Programmed Soul
Reel World Theology on Stitcher
Reel World Theology on FeedBurner
This week's panel included Blaine Grimes and Josh Larsen.
Blaine Grimes (@Dept_of_Tourism)
Reel Thinking
Josh Larsen (@LarsenOnFilm)
Think Christian
LarsenOnFilm
Filmspotting
Podcast Notes and Links:
[youtube url="https://youtu.be/bggUmgeMCdc"]
Ex Machina on IMDB
Ex Machina on Rotten Tomatoes
Ex Machina Review at Reel World Theology
Ex Machina, Human Freedom, and the Garden of Eden at Norville Rogers
Ex Machina and What It (Might) Mean to Be Human at Think Christian
Ex Machina Review at Christianity Today
Ex Machina Review at Patheos
Ex Machina and the Art of Character Identification at Birth Movies Death