Thirty years ago was a completely different pop culture landscape. Blockbusters, VHS, big hair, and bigger music on MTV. Here at Reel World Theology, this September we're celebrating the movies of the year 1985 and also launching a new fall Top 5 tradition.
Every fall starting in September, we'll spend the next four months on Top 5's from thirty years ago, fifteen years ago, ten years ago, and five years ago. So, this year in 2015, we'll spend September in 1985, October in 2000, November in 2005, and December in 2010. We'll talk movie classics, Sci-Fi, comedies, the Oscars, big name directors, directorial debuts, and maybe some of the movies that weren't so great.
To keep things interesting and fun, once a movie has been used in a Top 5 list, it is off-limits for the rest of the month until the definitive Top 5 movies of that year countdown. So, for example, this list of Top 5 comedies has Back to the Future on it. Later in the month, we'll be looking at the Top 5 movies nominated for an Oscar. BttF won an Oscar, but is disqualified from the list because it was already on a list.
So, with that said, let's dive into the best comedies in a year filled with iconic actors making our sides split.
[divider top="no"]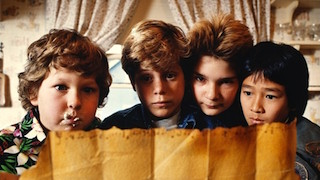 "Hey you guys!"; The "Truffle Shuffle"; pirate gold; Data; and "Goonies never say die!" What made 1985 such a special year for comedy was the amount of funny movies that are now cult classics. Those of us in our 30's and late 20's grew up with these movies and we could care less what the critics  think and, in the spirit of the Goonies, we don't care what the adults think. It's quotable, fun, ridiculous, scary, and insanely vulgar for a cast of kids.
Starring some major child stars that have made a mark of their own since being children in 1985—Josh Brolin and Sean Astin being the most prominent—the Goonies captured the same Spielberg-ian spirit of movies like E.T. and the later Home Alone. The connections of these three movies to Spielberg are obvious: Spielberg directed E.T. and wrote The Goonies, Christopher Columbus, a Spielberg pupil, wrote the screenplay for The Goonies and directed Home Alone. All three are a kid(s)' adventure in an adult world and is filled with mystery, wonder, excitement, and youthful ingenuity. No wonder we loved this movie and watched it until the magnetic tape on the VHS snapped!
The indelible link between our childhood and the Spielberg-Lucas-Kennedy movies continues to this very day with the forthcoming Star Wars: The Force Awakens. Our childhood memories are owed in part to Spielberg, Amblin Entertainment, and Lucas' Industrial Light and Magic, and The Goonies is a prime example.
[divider top="no"]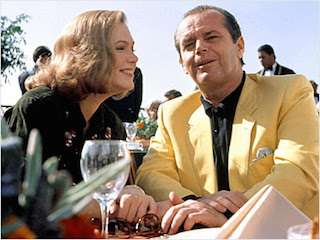 The penultimate film for Hollywood legend John Huston before his death in 1987, Prizzi's Honor would earn him a nomination for best picture and best director. If it wasn't enough to receive your own honors, his daughter, Anjelica Huston, would win the Oscar for Best Supporting Actress for her fabulous role as the family pariah and the ex-betrothed of the star of the movie Jack Nicholson.
Nicholson plays Charley Partanna, a tough talking, palm greasing hit man for the East Coast Prizzi crime family, who becomes smitten and eventually marries fellow hit specialist Irene Walker (Kathleen Turner). The main twist of the movie–and with a story by novelist Richard Condon, there are many–is their next hits have been taken out on each other. Charley is blood bound to the Prizzi family and bound to love Irene, his wife. The movie twists and turns as Charley wrestles with what to do, all the while we are laughing at the funny wit and and perfectly plausible, yet terrible, decisions and motivations of the characters. The movie is certainly not a screwball comedy like The Goonies, but hammers on the darkest elements of family values, romantic love, and being true to your word.
[divider top="no"]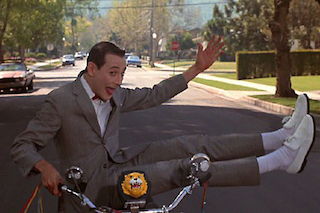 A movie based on a comedic bit of improvisational comedian Paul Reuberns seems like, on its surface, a flop-tacularly terrible idea. However, the resulting feature length film starring the 80's favorite Saturday morning child at heart, Pee-Wee Herman, resulted in a quotable, goofy adventure, now considered a cult classic.
Paul Reubens worked on the script with fellow Groundlings team member and friend Phil Hartman, who he had collaborated with to create the Pee-Wee Herman character for their LA-based comedy troupe and what would eventually be Pee Wee's Playhouse. The initial kernel of inspiration for the movie was a retelling of the cinema classic, The Bicycle Thief, with characters from Reuben's comedy show and one sweet, tricked out cruiser bicycle. Warner Bros. was pleased with the script and hired young director Tim Burton to direct his first feature length theme.
The resulting movie was wildly successful at the box office and over the years the movie has struck a chord with the child in all of us. Reubens' off the wall antics give the movie a wild humor that is expertly tempered by Hartman's comedic alacrity. The comedy is inane but smart, and with Burtons' deft direction and a lively orchestral score from Oingo Boingo frontman Danny Elfman, it captures a type of humor and wit typical of the heyday of Warner Bros.' Looney Tunes cartoons. Pee Wee's world is an classic animated feature come to life that ages as well as any classic Hollywood cartoon. From Large Marge to dancing to Tequila, Herman pedaled his red cruiser bike into our hearts and eventually onto our small screens with the TV show every 80's kid knows and loves.
[divider top="no"]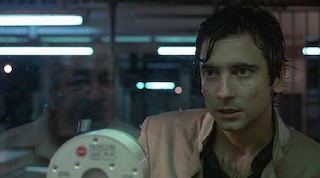 The great Martin Scorsese had wowed audiences and the Academy with his cinematic masterpiece, Raging Bull, starring the equally great Robert DeNiro. The widely acclaimed movie was followed up two years later by heading in a completely different direction for both actor and director with The King of Comedy. Again, starring Robert DeNiro, Scorsese showed a knack for comedic timing while following a broken character in Rupert Pupkin that is a foreshadowing Scorsese's profiling of Jordan Belfort in The Wolf of Wall Street.
Then, three years later, Scorsese took up the comedy mantle again with his under appreciated and oft forgotten 1985 effort, After Hours. Much like he did in Taxi Driver, Scorsese took to the gritty, shadowed streets of New York to set his tragic comedy starring Griffin Dunne. However, this movie takes place over one fateful night for Dunne's Paul Hackett in the dark streets of urban chic Soho. And when it gets dark in Soho, the characters come out to play.
After meeting a woman (Rosanne Arquette) and snagging her phone number but not her name, he saunters to Soho in search of nothing more than the promise of a quick, sexual encounter. What lies in store for him is way more than he signed up for. He bounces around the neighborhood trying to get home only to be constantly waylaid and thrown into stranger and more dangerous situations. The hilarity of the movie is in the quick pace, Paul's inability to catch up to the absurdity, and the casual indifference the residents of the neighborhood have to his plight and how he gets swept up in what matters to them when all he wants to do is get home and sleep.
Unlike some of the other comedies on this list that focus more on gag humor and banter for their laughs, Scorsese opts to draw humor out of Paul's under-reaction to these increasingly inane and terrifying situations. As Paul experiences these increasing absurdities, the movie is brilliant at drawing out the same feelings Paul has as his emotions reach boiling and spill over. You're on the journey with him, and the humor lies in the situations being so crazy, so surreal, and so implausible, you can't help but laugh.
[divider top="no"]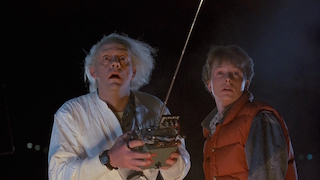 Could there possibly be any other at number one? Part of the bedrock of pop culture and a staple of every single cable channel that broadcasts movies, Back to the Future is not just a comedy classic, but a sci-fi classic and one of the top movie franchises of all time.
The connections to Spielberg come up at the beginning of this list and now the end. Zemeckis' owes Spielberg's Amblin Entertainment for producing a good portion of the movie and Lucas' ILM for the effects and sound design. In fact, the sounds used for the movement of Doc's DeLorean are the same ones used five years previous for the T-47 Snowspeeders from The Empire Strikes Back. A small sample of how Lucas and Spielberg truly created and owned the burgeoning blockbuster entertainment world.
Starring the late added Michael J. Fox, who took over for Eric Stolz after he was deemed not a good fit for the part of Marty, as well as the always funny Christopher Lloyd, BttF is what I call the perfect storm of story, performances, and actor chemistry. Lloyd and Fox are particular standouts when they are together, playing off each other so well you really think they might just be best friends across time in real life.
I could say SO much more about this movie, but I recommend checking out our podcast of Back to the Future where we go much more in-depth into what made the movie a cinematic classic.