On this episode of the Reel World Theology Podcast: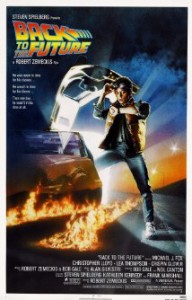 It's been right at 30 years since Marty, Doc, Biff, George, and Lorraine first appeared on our movie screens– yes! 30 years! With the upcoming release of the 30th Anniversary edition of Back to the Future, the impending theatrical run, and heck, because we just really like the movie, we decided to have a conversation about a movie that has not lost a bit of relevance in all those years. How is that even possible? We note that few movies have ever stayed relevant for that long and fewer movies about time travel have still ever been made. What is it that seems to make this movie "timeless"? We try and figure it out.
Download Episode 070 Here:
Reel World Theology #070 – Back to the Future and Relevance
Reel World Theology on Stitcher
Reel World Theology on FeedBurner
This week's panel included Josh Crabb and Mark Wingerter.
Joshua Crabb (@HeyItsThatJosh)
RWT Contributor
13Past1 Blog
Mark Wingerter (@markwingdinger)
Writing:
Re-View Series
Podcast Notes and Links:
[youtube url="https://youtu.be/qvsgGtivCgs"]
Back to the Future on IMDB
Back to the Future on Rotten Tomatoes
In Back to the Future, Time Can Be Bent, But Never Broken at The Dissolve
History of Film: Robert Zemeckis' Back to the Future at Movie Mezzanine