As the summer movie season moves toward a close, you might be looking for something to watch this weekend. Fine reader, worry not! Our wonderful gaggle of contributors have unglued their eyes from their screens long enough to pass on these recommendations for what you can watch this weekend!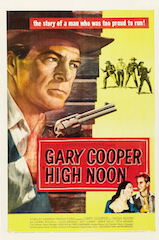 High Noon – This is one of my favorite films of all time. Gary Cooper gives the performance of his career as the beleaguered Will Kane, the Marshal of Hadleyville. Though simple on the surface, there is much going on in the subtext. Kane is torn between his new life as a husband and farmer and his overwhelming sense of duty to the townspeople. Whether it's cowardice, selfish ambition, or fatigue, everyone has a terrible reason not to fight the dastardly Frank Miller, except Kane. It's an fascinating introspection of the western genre.
[divider top="no"]
via Laura FIssel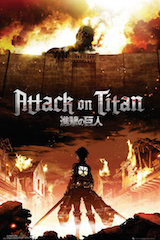 Attack on Titan – It took me a while to heed friends' urging to watch Attack on Titan…and considerably less time to binge-watch the whole season. Set in a vivid world full of seriously high stakes, I was immediately hooked. Not having much experience with anime, I didn't know what to expect. But I enjoyed watching this subtitled show, and became quickly engrossed in the story and invested in the characters. Worth the watch—just don't get to attached to any one character.
[divider top="no"]
via Mikey FIssel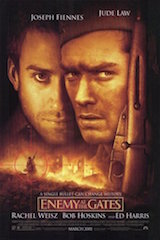 Enemy at the Gates – Jude Law, Ed Harris, Rachel Weisz, Joseph Fiennes, Bob Hoskins, Ron Perlman—do I have your attention yet? Enemy at the Gates succeeds as both a war film and a sniper film. There is the harsh reality of war—especially the hard reality rarely depicted on the Eastern Front—and the tense, cat and mouse game of snipers presented in a way that is more nail biting than most any other sniper film outside of Tom Berenger's Sniper. I'll admit that there is a semi-unnecessary love story stuck in the middle of this one, but it is a mild distraction from the impressiveness of the rest of this film.
[divider top="no"]