On this episode of the Reel World Theology Podcast: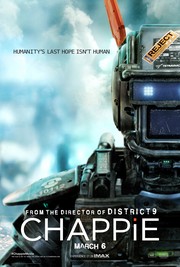 Everyone is quick to remind you of Neill Blomkamp's first film, District 9. I think they have been doing this because of the letdown of Elysium and the sheer disappointment in his latest, Chappie. Despite terrible reviews and a story that suffers from being a wild hodgepodge of ideas and themes, Chappie manages to kickstart discussions by raising a lot of very intriguing questions. Even without the film giving us any answers, we try to wade into the conversation.
Download Episode 055 Here:
Reel World Theology #055 – Chappie and The Science of the Soul
Reel World Theology on Stitcher
This weeks panel included Josh Long and Josh Crabb.
Josh Long (@thejoshlong)
More Than One Lesson
Joshua Crabb (@HeyItsThatJosh)
RWT Contributor
13Past1 Blog
Podcast Notes and Links:
[youtube url="https://youtu.be/lyy7y0QOK-0″]
Chappie at IMDB
Chappie at Rotten Tomatoes
Chappie Review at Reel World Theology
Chappie Review at Reel Gospel
Chappie Review at Reel Spirituality
Chappie Review at Christianity Today
Chappie: Gnostic Clown or Resurrected Body? at Think Christian
Artificial Intelligence and the Soul