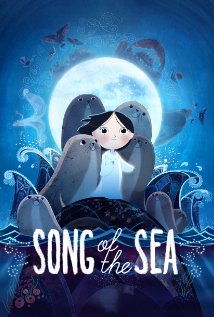 Looking back at the five nominees for Best Animated Feature Film of the Year for the 2014 year in movies, a surprising majority of the movies deal with loss, community, and family. Big Hero 6 dealt with loss and healing through community. How To Train Your Dragon 2 had sub themes of family, relationships, and had a major loss that had my kids in tears. The Boxtrolls is all about family, community, and learning to accept those that are different. The nominees certainly dabbled in some heavy themes and Kleenex cleaned up in sales while these cleaned up at the box office. One of the less accessible nominees, Song of the Sea, is no different than its nominated counterparts and gave The Lego Movie a serious run for my favorite animated film of 2014.
From the same director and animation studio that made 2010 Oscar-nominee The Secret of Kells, Tomm Moore and Cartoon Saloon, Song of the Sea is an Irish animated feature that is a worthy follow up and a good sign of things to come from Moore and the studio. If they can continue to make movies like this, they will enter into the same conversation with famous animation studios like Pixar and Studio Ghibli. This may not be better than The Secret of Kells, quite debatable, however it certainly has this team on a positive and upward trajectory. Going more for the emotional jugular than Kells, Song of the Sea addresses the deep, affecting impact of tragic loss of a loved one and ultimately how we cope without forgetting.
Continuing the strand of Celtic mythological elements from Kells, Song of the Sea follows Ben (David Rawle) a young boy with an adventurous heart, his trusty dog Cu, and his little sister Saoirse (Lucy O'Connell). When a tragedy befalls their family and it leaves their father, played by Brendan Gleeson (Calvary, Edge of Tomorrow), heart-broken and distant, they are whisked away to the big city to be raised by their grandmother (Fionnula Flanagan). Little do they know that they are about to be whisked away into an adventure to rescue spirits trapped inner world and that Saoirse is really a magical "selkie", an old Irish and Scottish myth of women who transform into seals.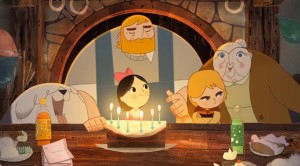 Wrapped in these mythological elements and lore is a touching story of how one family has struggled for half a decade or more to move on from the loss of Ben and Saoirse's mother when Saoirse was born. While each of the kids must come to deal with this loss as the main story unfolds, it is the visual motif of a man hunched in contemplation and mournful sorrow of their father, Conor, that paints a colorful visual metaphor for the grief they are all experiencing. Nobody in the family, even their severe and controlling grandmother, has dealt with her death well and an undercurrent of unresolved pain laps up against the shores of their home like the waves of the surrounding sea.
Two consistently captivating elements of Song of the Sea are the animation and the music. Framed within circles with artistic elements swirling around it, much like artistic drawings of Celtic monks, the whole movie is a feast for the eyes with little tips to the story and the mythological elements that make up the visuals and story. Mingled in with this visual beauty is a dulcet and twinkling score from Kila, an Irish folk group, and the beautiful voice of Lisa Hannigan, who also plays the voice of Ben and Saoirse's mother. It evokes a sorrowful longing and yet a warming hope amidst loss. It is so wonderfully done that you cannot shake this feeling until you are able to let it all out when the the story reaches its emotional apex.
Emotionally affecting and visually blissful, Song of the Sea is an artfully painted narrative with a heart-warming message illuminated with understanding and empathy. It's opening message is , "the world is more filled with weeping than you can understand," but wants us to know that addressing our pain and the sorrow can open ourselves up to love and healing. A great message for adults but communicated at a level children can enjoy, this movie will leave you hugging those you love and fondly remembering those you have lost.