On this episode of the Reel World Theology Podcast: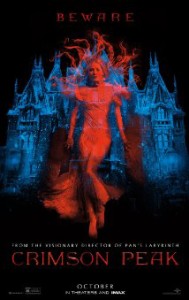 Another special Halloween episode! This time we talk about a film marketed as a stereotypical horror film but what we get is something quite different. Our panel discusses if it really should fit into the horror genre or not. We also talk about the history Guillermo del Toro has with the fantastical and how it seems to influence this film. And, as we do most Halloween episodes, we talk about the very nature of the horror genre; specifically, we talk about how storytellers use all types of ghosts, zombies, vampires, and more, to show us things about humanity that we might not explore otherwise. This is a good one!
Download Episode 077 Here:
Reel World Theology #077 – Crimson Peak and Understanding Our Monsters
Reel World Theology on Stitcher
Reel World Theology on FeedBurner
This weeks' panel included James Harleman and JR Forasteros.
James Harleman (@harlemanic)
www.cinemagogue.com (@cinemagogue)
YouTube Channel
The Book:
Cinemagogue: Reclaiming Entertainment and Navigating Narrative for the Myths and Mirrors they were Meant to Be
JR Forasteros (@jrforasteros)
JRForasteros.com
NorvilleRogers.com
The Storymen Podcast
Origami Elephants Podcast
Podcast Notes and Links:
[youtube url="https://youtu.be/oquZifON8Eg"]
Crimson Peak at IMDB
Crimson Peak at Rotten Tomatoes
The Devil's Backbone on IMDB
Crimson Peak Review at Reel World Theology
Crimson Peak Review at Christianity Today
Crimson Peak on the Don't Split Up! Podcast
Crimson Peak Review: A Sumptuous Gothic Ghost Story at Birth.Movies.Death
Catalyst Sermon Series on Monsters
[youtube url="https://youtu.be/PzzPxiP1JSg"]