On this episode of the Reel World Theology Podcast: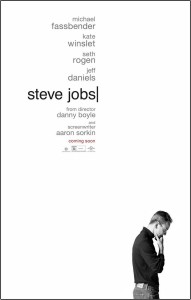 Collect all your Apple products and tune into our chat about one of the most iconic men of the last quarter century, Steve Jobs. In this iteration of the Jobs biopic, Michael Fassbender teams up with director Danny Boyle and screenwriter Aaron Sorkin to provide a fast-paced, intense, and structured look at "the man who saved Apple." While most of the reviews have been positive, there are some who didn't care for its mostly negative portrayal of Jobs or had issues with the non-tradition storytelling by Sorkin. We have tons of opinions and even more ideas than time to explore in this thematically rich painting of the life of an icon.
Download Episode 078 Here:
Reel World Theology #078 – Steve Jobs and Losing Control
Reel World Theology on Stitcher
Reel World Theology on FeedBurner
This weeks' panel included Joe Darnell and Jason Myers.
Joe Darnell (@_JoeDarnell)
Moviebyte Podcast
TechTonic Podcast
Top Brew Podcast
Jason Myers (@jmyers1018)
Jason Myers at Greensboro College
Podcast Notes and Links:
[youtube url="https://youtu.be/aEr6K1bwIVs"]
Steve Jobs at IMDB
Steve Jobs at Rotten Tomatoes
Jobs at IMDB
Pirates of Silicon Valley at IMDB
Steve Jobs: A Incomplete But Emotive Painting at Reel World Theology
Steve Jobs and Ghosts of Apple's Past at Christ and Pop Culture
Steve Jobs Review at Christianity Today
Steve Jobs Film Ia A Painting, Not A Photograph, Filmmakers Say at CNET