It's been a slow build up to this weekend, but we've finally reached the penultimate day to the most "hallowed" of all October days, Halloween. So, if you're in the mood for a million scares or maybe a whimsical take on the spookiest of all days, then our contributors recommendations are perfect for your Halloween weekend. Happy movie watching weekend everyone and thanks for being a part of our first ever "Screaming Weekly" month.
[divider top="no"]
via Josh Crabb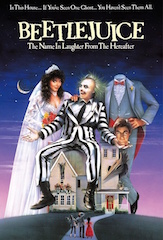 Beetlejuice (HBO Now) – It's showtime! That's right everyone, it's the "ghost with the most" streaming to your eyeholes from Tim Burton's imaginative classic, Beetlejuice. Burton always had a bit of a strange, gothic imagination, and he pulls out the oddities and all the stops for this one. While the practical effects are fantastic, the animated effects date only a little and are still pretty scary. However, this move lives on the deadly inspiring performance of Michael Keaton. His manic energy, lewdness, and rapid-fire witticisms steal the show. It is such an oddity of a movie and yet it holds up so well and still makes you laugh, cringe, and wonder. In other words, it's a Tim Burton film.
[divider top="no"]
via The Film Avenger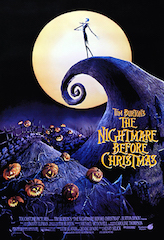 The Nightmare Before Christmas (Netflix) – Though not directed by Tim Burton himself, he created the characters and story while working in Disney Animation in the early 1980s. Created as a send-up to the stop-motion Christmas classics of the 1960s, Nightmare is Burton's imagination fully realized – made with care and artistry that commands respect. Danny Elfman's wonderful score and songs just make everything better. The stop-motion animation was revolutionary when the film was released, as there had never been a process where the camera could perform complex moves one frame at a time. Nightmare is now considered both a Halloween and Christmas classic and it is imperative that you see it if you haven't.
[divider top="no"]
via JR Forasteros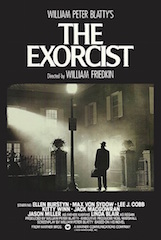 The Exorcist (Netflix) – This classic horror film is loosely based on William Blatty's novelization of a reported exorcism in St. Louis, MO (and I mean loosely – the actual kid was a boy, while Reagan is a girl). In any case, The Exorcist is classic for a reason, and the young priest's spiritual journey in the film is provocative and beautiful.
[divider top="no"]