Warner Animation Group is off to a pretty good start. Relatively new since being developed by Warner Bros. producer Jeff Robinov in 2013 as an animation screenplay think tank, the first movie to debut from their efforts was the out-of-nowhere surprise, 2014's The LEGO Movie. Written and directed by the duo of Phil Lord and Christopher Miller, its rapid-fire wit, sincere slapstick humor, and frenetic enthusiasm won over audiences and added a new layer of wonder to LEGO's allure with kids. It likewise paved the way for new movies like The LEGO Batman Movie and The LEGO Ninjago movie, both originally set to debut before, but since changed, their second feature-length movie Storks. 
Storks is an altogether different movie from the LEGO offerings coming from Warner Animation Group, but it treads somewhat familiar thematic ground. Starring Andy Samberg as the voice of highly successful delivery stork Junior, his character is obsessed with pleasing Boss Hunter (Kelsey Grammer), the lead stork who has moved them past delivering babies to a successful business shuttling packages for fictional internet retail giant Cornerstore.com. One early scene delightfully plays on the typical contents of a stork-borne arrival and juxtaposes it with a surprising and funny twist of a couple receiving new phones instead of the expected cargo. In fact, there is a strong thematic tension between the trappings and impersonal nature of modern success in opposition to real relationships, true purpose, and familial connection.
Embodying this tension are two groups of characters unwittingly tied together by movie's end. The first is a sweet, energetic boy, Nate Gardner, who wants nothing more than a baby brother with ninja skills and his overly busy realtor parents to play with him. Meanwhile, Junior is tasked by Boss Hunter to "fire" an orphaned human child, Tulip, who has grown up in the stork's world and can now safely be sent to live in the human world. However, while Junior may be a great delivery stork, his firing skills don't match his desire to please others and he finds himself volunteering to take Tulip home. Their journey becomes more complicated when Nate finds an old brochure for the stork's baby delivery service and sends a letter to them and Tulip, on the delegation of Junior, activates the old equipment and "makes" a baby for the Gardners. Now Junior must deliver this new baby, find Tulip's family, and manage to do it all while avoiding Boss Hunter.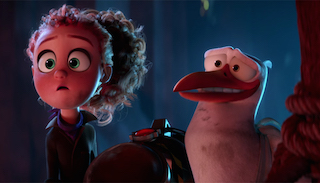 While the plot can sound a little convoluted within a quick synopsis, one of the biggest surprises of this movie is the refreshing originality of the premise, narrative, and writing. Writer and co-director Nicholas Stoller, having written for the two newest Muppet movies and the surprisingly funny Neighbors and Neighbors 2: Sorority Rising, continues to boast comedic acumen and stimulating writing. A lot of animated movies as of late have shot for lowest common denominator body humor and endless pop culture references. Storks aims higher for observational, dialogue-centric jokes and rapid-fire wit. Not every joke sticks due to its straightforward manner, but the sheer number of clever lines and comedic asides present plenty of humorous moments. The movie is invigoratingly clever, unencumbered from previous source material or slavishly bound to deliver callbacks and easter eggs. It also contains one incredibly fun and interesting "quiet" slo-mo fight sequence that was really great and had me smiling and laughing. 
It also boasts a great supporting cast, led by Comedy Central's most hilarious duo, Key & Peele. Channeling much of the same energy from their feature-length debut Keanu, they play a pair of wolves within a giant wolf pack enamored by the cuteness of the Gardner family's baby. They are determined to keep the baby for themselves, employing a literal "pack mentality" in their pursuit of Junior and Tulip that is the most humorous running gag throughout the movie. Junior and Tulip must also avoid Jasper, the stork whose attachment to Tulip led to her being stuck with the storks and without a home, as he seeks to take Tulip back for himself. While his character is merely nothing more than Danny Trejo being himself as a stork, even this conventional casting has an amusing twist when his character finally has some extended screen time. The one unamusing exception is Junior's foil, a "dude-bro" pigeon who I did not find funny at all.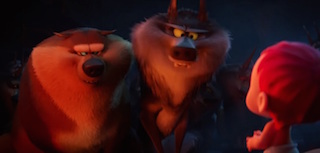 The movie's final third is its finest and most polished. After the first twenty-five minutes, the movie had sagged under less amusing jokes and fractured story setup. However, what could have gone into sillier, more trivial territory drastically shifts to a much more touching and meaningful story. There are some affecting moments in the last act focusing on these different competing groups all wanting and seeking after family and others who must give up someone they love to someone else who loves them just as much. As an adopted child myself, the father of four kids, and a friend to a couple facing the real possibility of giving up a child they have raised since his birth, these moments resonated deeply. I got exactly what they were aiming for, however, the moment is rather fleeting and it could have used a little bit more momentum and more room to land emotionally. 
Like its predecessor, the aforementioned The LEGO Movie, Storks contains a surprising amount of humorous, clever, and original material. While the animation is not nearly as innovative or interesting as The LEGO Movie, it stands in contrast to much of the derivative and cumbersome animated fodder of recent memory. Writer Nicholas Stoller strives to tell a bigger and more meaningful narrative by exploring themes of acceptance, friendship, what makes a family and putting other's needs before your own. At times its comedy is too overt, but the overall creativity and enthusiastic spirit of the humor win out over its jokes being obvious and unambiguous. I guarantee your kids will love this movie and I am confident you, as an adult, will enjoy it, as well.