In Avengers: Age of Ultron, I finally find Black Widow to be a relatable heroine and an authentic representation of the female gender.
Apparently, that is not a common opinion.
There are many compelling arguments being made right now about the sorry lack of strong, authentic female heroes in entertainment–one of which is centered around the Black Widow action figure debacle. These need to be spoken, heard, and seriously considered. Changes must be made. But I'm scratching my head about how the actual story for and character of Black Widow from Ultron is fuel for current outrage.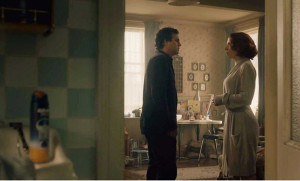 It especially grieves me that a huge target for recent criticism is the inclusion of the issue of motherhood (or in this case, lack thereof). I think it is worth noting that Natasha does not even start the conversation in question, about having children–Bruce does, in an attempt to convince her that his experience is unique, no one can understand, and he must fight his personal battle alone. In a moment of great vulnerability, the likes of which we've not seen from this character, Natasha levels that argument. She essentially shows Bruce that he is not "special": both of them are haunted by dark parts of themselves (that are necessary to play their part on the team); both of them have had experiences with long-term repercussions that are sources of isolation.
This moment actually equalizes Bruce and Natasha. When she asks him "Do you still think you're the only monster?" it is after a series of flashbacks that include all manner of brutality, not limited to sterilization. Collectively, these painful experiences were used to carve her into bits–taking out anything, emotionally or physically, that didn't help the ultimate goal–to do "the job," accomplishing tasks for someone else. In Ultron, we finally get a picture of Natasha's whole self, not just the automaton created by the Red Room. Why must there be such judgement, outrage, disgust about this "whole self" including a concept of motherhood?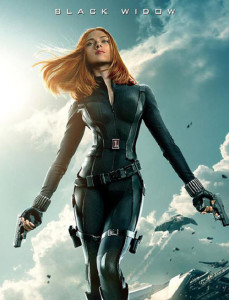 There seems to be a trend in current culture of rejecting roles and characteristics that were once part of a forced definition of "woman." These things were, and can still be used to oppress, harm, and enslave women. But the misuse of these things does not mean they have no redeemed, healthy form of existence. Laura Barton, another prominent female character in the film, shows this reality most clearly. She exemplifies that strength, value, self-awareness, and choice can be enhanced rather than compromised by the role of wife and mother.
In general, current culture seems very focused on a female liberation that means "we're free to wear whatever we want and sleep with whoever we want, whenever we want"–a system that arguably benefits men more than women. Was Black Widow more of a heroine in Avengers, when her character isn't emotionally developed, but we get a lot of great shots of her gorgeous body in really, really tight leather? I don't remember there being much controversy about Black Widow then. In Ultron, she is so much more than a body in leather. She has emotional depth. She can be focused and serious about the work at hand, but certainly forms meaningful attachments and is loving, giving, and vulnerable. She is a strong woman who can hold her own in a fight, and is clever as well as physical. She makes decisions, is confident and assertive, and is a team player and valuable part of a community. And, she's not the only woman who exudes these admirable traits. The women in the film (namely Scarlet Witch, Maria Hill, Laura Barton, Dr. Helen Cho) are varied in their roles, careers, and personalities, and yet all manage to retain these strong, self-assured characteristics. In fact, I could argue that the film as a whole actually represents a unique and varied collection of women who are all valuable and equal to their male counterparts.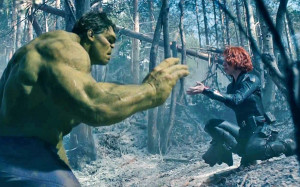 The bottom line is that while I disagree with the starting place for the current rendition of this debate, I resonate with what is at its heart: a desire for women to be known and valued as the people we know ourselves to be, and to see that represented in our world with dignity and equality. We are all made in the image of God, and in Galatians, our equality is made explicit: "there is neither Jew nor Gentile, neither slave nor free, nor is there male and female, for you are all one in Christ Jesus" (3:28). Our world does not yet reflect that reality, and it is a painful thing. I too long for a world in which my sisters, nieces, and any daughters I might have are saturated by inspiring and authentic representations of heroines they can imagine themselves to be–warriors and wives, soldiers and servants, champions and child-bearers.