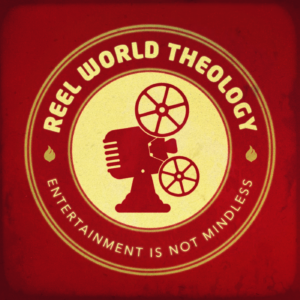 Welcome to Reel World Theology… oh, wait…
I don't get to write much anymore due to podcasting duties, but it's a big day. After much wailing and gnashing of teeth, the staff here at Reel World have launched our very own Patreon page. Many of you are already familiar with Patreon because you are already accustomed to supporting your favorite artists around the world via this method. Good! Art needs support.
So, what's changing here at RWT?
Well, hopefully nothing that doesn't change for the better. For the past few years, Reel World Theology has been coming to you multiple times a month, covering the latest (and not-so-latest) in current cultural film offerings. It has been a blast. In fact, it's been so much fun that we have added (or branched off?) a number of special shows along the way (Reel World: Rewind, Home One Radio, The Body|The Blood). This has created a bit of a network. We have loved bringing you both broad and specific content, creating conversations, and building community with those who would choose to engage culture. Again, none of that is changing.
What we do hope will happen is, with your support, we can increase the frequency and quality of those conversations. Are you bummed that RWT is not in your weekly feed? Well, we're fixing that! Do you enjoy the content of conversation, but wish it was a little better audio quality for ease of listening? We want to fix that too! But it's incredibly difficult to do these things without your support.
We have had a few ways for you to support us in the past (Support Reel World Theology) and many of you have taken advantage of that– especially those of you who have been using our AMAZON affiliate link (this helps more than you know). But now, we are hoping to get serious about getting our listeners involved. Gene, Blaine, Josh, Blake, and I all have some really great ideas for how to move this small network of podcasts forward, but we also realize we can't do it on our own.
Would you help?
Take a minute and look over what we're asking and what our goals are over at our new Patreon page (www.patreon.com/rwt). I think we've got some pretty fun introductory rewards and if response is good, we will only be increasing those rewards and levels in the future (and, seriously, we have some pretty great ideas that we are dying to share with you). If you think you could spare even a dollar a month, we would be grateful. We already love the community that has formed around these podcasts and hope that with more involvement from you, the listeners, we will continue to grow and engage and challenge.
Thanks. Seriously.
Reel World Theology Staff:
Mikey Fissel
Gene Gosewehr
Josh Crabb
Blaine Grimes
Blake Collier