Reel World Theology is represented at the Calgary Underground Film Festival (CUFF) by Daniel Melville Jones and Joshua Crabb. This post serves as your guide for what to look for if you're in attendance. Check back here regularly for updates…

The Fourteenth Calgary Underground Film Festival arrives early next week. With 35 films and events, including documentaries, horror, indie, and local movies it can be tough for the casual film buff and the dedicated film nerd to choose which screenings to attend. I'm covering the festival, so I've been sent a half dozen advanced screeners and have scoured letterbox.com and IMDB to learn about the rest. I now offer you my guide to the festival, including films I've seen and film's I'm excited to attend.
78/52 is an elegant and engrossing analysis of Psycho's infamous shower sequence. It features countless Hollywood luminaries geeking out over the scene that shook up their world. Be sure to watch, and hopefully rewatch, the Hitchcock original before attending Thursday, April 20th at 9:15 p.m.
Alipato: The Very Brief Life of an Ember was noted by CUFF programmer, Cameron Macgowan, as a "must see", describing it as "off the rails." I'll be skipping this violent Filipino science fiction, but if you're braver then me, catch it on Tuesday, April 18th at 9:45 PM
Band Aid This Sundance pick is described as a cynical, American version of ONCE, about a couple who turn their repeated arguments into songs. I'm a sucker for both stories about music and anything featuring Fred Armisen, so expect me to be there early on Saturday, April 22nd at 7:00 p.m.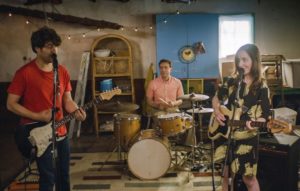 Colossal is making appearances throughout the major film cities in the States and is getting a lot of buzz for the creative way it uses the monster genre to hijack an angsty romance. Starring Anne Hathaway and Jason Sedeikis, it got a rave review from the NYT's A. O. Scott, so I'll be there on Wednesday, April 19th at 9:30 p.m.
A Dark Song, a creepy occult thriller from Ireland, is being heralded as this year's prestige horror, in the tradition of THE WITCH, IT FOLLOWS, and THE BABADOOK. Which mean's I'm super interested but certainly won't be there unless you are coming to hold my hand. Thursday, April 20th at 11:45 PM and Sunday, April 23rd at 2:15pm
Dave Made a Maze is your average story about a frustrated creative who builds a giant maze in his leaving room that comes alive and takes on a life of it's own. This is a ton of fun to watch and features some of the most truly inventive set design we'll see in a long time. Saturday April 22nd at 9:00 p.m. and Sunday, April 23rd at 9:45 p.m.
David Lynch: The Art Life Of the four documentaries from CUFF I've been able to see, this is the one that took the documentary genre and transformed it into a work of haunting, personal art. I can't get it out of my head, even though I had (ashamedly) not seen a single David Lynch film prior to watching it. Read my review and then please go see it when it plays on Saturday, April 22nd at 4:00 p.m.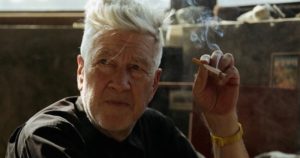 Free Fire has received endless buzz as its progressed it's way through the festival circuit. Now Calgary gets the chance to see this whip-smart action film before what's left of the world gets access. I can't wait. Tuesday, April 18th at 7:30 p.m.
G-Funk If you're like me, you love contemporary hip-hop but have no idea about the generation that started it. As I wrote in my review, this documentary about the influential west-coast subgenre is a funky, fun ride – if a tad too influenced by its subjects. I recommend going if you're a huge hip-hop fan. Friday, April 21, 7:15 p.m.
The Little Hours, a raunchy, anachronistic comedy set in a medieval covent. I love irrelevant Monty Python humour, but early reviews for this one are mixed. Still, CUFF chose it to open the festival and tickets are almost entirely gone, so it's apparently popular. Monday, April 17 at 7:00pm
My Entire High School Sinking Into the Sea features creatively compelling animation and a bold story, but the dark violence directed at students left a bad taste in my mouth. My full review can be found here, but note that I'm in the minority on this one.Tuesday, April 18th at 7:00 p.m. and Sunday, April 23rd at 11:00 a.m.
Some Freaks is a astonishing debut film; a raw, intimate portrayal of our search for intimacy in an unusual high school drama. Don't miss this one, as I expect we'll be taking about it all year. Tuesday, April 18th, 9:15pm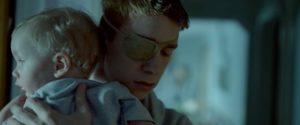 Tony Conrad: Completely in the Present is another documentary about an artist at work. Although Tony's personality is engaging and contagious, yet when compared with the festival's superior and similarly titled DAVID LYNCH: THE ART LIFE, this feels like just another documentary. Sunday, April 23rd at 9:15 p.m.
The Untamed is Cameron McGrogen top pick for the festivals, a "beautifully grotesque film somehow manages to find the perfect balance between pulling at your heart strings and creeping you out big time." It sounds uncommonly nasty at times, so I'll be staying home. But you can see it on Friday, April 21 at 9:15 p.m. and Sunday, April 23rd at 1:30 p.m.
Special thanks to Brenda Lieberman, Cole Binder, and most of all Laura Carlson for their generous support in getting me access to these films. The festival is presenting us a feast of possibilities this year, so I hope you make your way out to be provoked, surprised, and moved by these moving pictures.