Agent Carter is a show you should be watching. Mark will be reviewing the entire second season week to week. Follow along with him as he explores one of Marvel's best shows.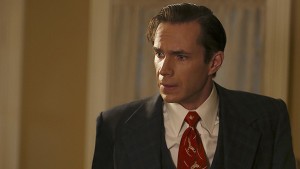 Jarvis: "You know, these adventures? They're only enjoyable if you return from them."
I'm starting to think Mr. Jarvis might be onto something here. At the moment it's not sounding good, Agent Carter fans. Word on the street is that Peggy might be on her last adventure this season. At least on her current network. Perhaps there is hope for a Netflix revival if such a thing occurs, which would serve the show for the better anyway.
Maybe they should use the memory wiping device from this week's episode to make the network suits forget Agent Carter's lower ratings. It would be as satisfying as watching Peggy zap Hugh Jones, played by the brilliant Ray Wise, over and over again. There are few things as enjoyable as Carter playing the cookie-cutter office female followed immediately by flaunting her true nature with a biting and super British-y wise crack. Her punishment of Hugh was one of the show's best moments this season.
It's also a tongue-in-cheek play on what the show has been built on. This idea of true nature versus the faces we put on is recurring and often a little depressing to examine. It was nice to have a little fun with it. This week's theme seems to follow suit. The zero matter calls to Jason and Whitney both, and as they physically seek to return to the source of what will make them whole, so do our characters.
Sousa's true feelings are coming to light, pulled out of him by his new fiancé. Rose finally gets to realize her skills and gifts. Jarvis is getting a chance to examine how badly he really wants all this adventure stuff. Even our curious little lab rat Dr. Samberly gets to join in on the action in the field. Carter is perhaps the only one just along for the ride, but we have sort of been there done that with her.
"The Lord is my strength and my shield; in him my heart trusts, and I am helped; my heart exults, and with my song I give thanks to him." –Psalm 28:7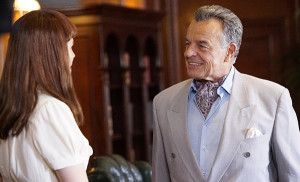 I think there are a lot of things in life that can center us. We are individuals with gifts unique to our own characteristics. Just look at the varying interests of our entertainment choices and you'll see that everyone finds comfort and and sense of wholeness from different things. But from my belief, the only true center for us all is Christ. We can find strength from things, but He is the true strength. We can trust other things and people, but he is our true helper. Perhaps this belief hasn't tested so well for you, reader, but I am thankful that it has for me. My heart exults.
While it's not a perfect analogy, Whitney Frost is an example of what we get from an imperfect center. She is returning to a source that only seeks to destroy. I mean, the zero matter wants to set off an atomic bomb just to serve itself. I'd say that's pretty destructive. She's starting to gain power, and even Agent Carter is narrowly escaping death to start her. Imperfect centers are like a cancer. They spread and devour. I choose to lean on what I think is the only perfect center.
If the end is coming for Agent Carter, I most definitely will be disappointed. But the show is a testament to where we have come in our entertainment and I hope that they way it has paved for strong female characters continues to drive shows as smart as this one. Maybe we should just soak up the adventure now and hope that she returns from it for another season. It'll be enjoyable either way.
Next Week on Agent Carter: The enemy of my enemy is my friend? Heroism makes for strange bedfellows. Carter recruits Dottie Underwood to help fight Whitney Frost, and reminds us that this show exists purely to crush the Bechdel Test every single week.