We're at it again! October starts a brand new list of Top 5's devoted to the year 2000! That's right, we're headed back 15 years to look at some of the best movies from the start of the 21st century. This month, just as last month, we're kicking it off with five great comedies from 2000 that are still making us laugh today. Enjoy this first list and make sure to stay with us through the whole month of October looking at movies from the year 2000.
[divider top="no"]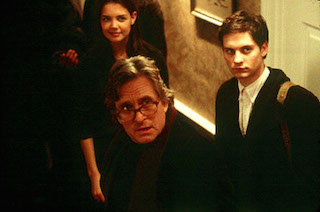 A stellar cast of well respected and funny actors including Michael Douglas, Frances McDormand, Rip Torn, Tobey Maguire, Robert Downing Jr., and Katie Holmes was one of the better dramatic comedies of 2000. It's the kind of character comedy that takes drastic right turns that takes Michael Douglas' Professor Grady Tripp deeper and deeper into the hole he has dug for himself. After student James Leer (Tobey Maguire) accidentally kills his boss' dog, it sets off a chain reaction of events that bonds the two of them while simultaneously threatening to tear apart Grady's tenuous grasp on his love life, his job, and his next book.
It's a particularly good role for Douglas as a slightly aloof, mostly stoned, always equivocal published author and writing professor. Maguire is also his normal whispery quiet, unassuming self and Robert Downey Jr. is, well, Robert Downey Jr. However, what makes the movie is the chemistry between Maguire and Douglas. One is wavering while the other has a quiet, fictional confidence. The movie is never screwball, but the events surrounding it sure seem that way. It's a clever hour and a half of happenstance and wit that leaves you genuinely happy and satisfyingly amused.
[divider top="no"]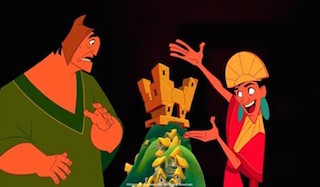 As far as quotability goes, this movie is #1 in my book. So many great lines from the likes of David Spade, John Goodman, Patrick Warburton, and Eartha Kitt. The movie is quick-witted, full of great one-liners, and the chemistry between the two pairs of heroes and villains is hilariously good.
If you're turned into a cow, you have my permission to skip the rest of this list and go home.
[divider top="no"]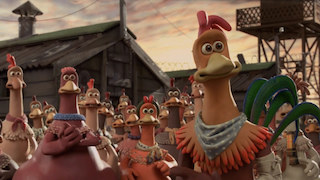 Aardman Animation was just getting started in the first year of the new millennium. 2015's Shaun the Sheep was one of the biggest and most fun surprises of the summer, and fifteen years previous they made one of my wife's favorite animated movies.
The British animation studio made one major change to its slew of stop motion characters when they cast Mel Gibson, the most American Australian ever, as the over-confident charlatan rooster, Rocky. When he comes to a chicken coop run by the sinister Mrs. Tweedy (Miranda Richardson), he teams with Ginger (Julia Sawalha) and the other hens to escape before Mrs. Tweedy turns them all into pies.
The caper-ish premise keeps the movie moving along and the funniest parts are the crazy cast of animals characters that make Aardman's movies so charming. Adding the bluster of someone like Gibson adds an interesting dynamic that most of their other movies don't have. While it is slightly detrimental and doesn't hold a candle to some of the other movies that would come later, I still love this movie a lot, as does my wife and kids. In fact, you cant check it out on Netflix if you get the opportunity.
[divider top="no"]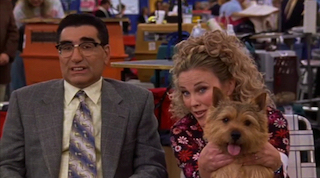 If you are a fan of Spinal Tap, The Princess Bride, and A Mighty Wind, but you hadn't seen Christopher Guest's 2000 comedy Best in Show, like me, then you are missing out on one of Guests' better mockumentaries. In fact, it might just be his best one.
The story was co-written by Guest and Eugene Levy, who both star as different dog breeders who bring their prized pooches to the Mayflower Kennel Club Dog Show, an obvious spoof of the Westminster Dog Show. It also stars Michael McKean and John Michael Higgins as an over-the-top gay couple with a prize Shitzu; Parker Posey and Michael Hitchcock as the yuppie, self-absorbed breeder couple; and Jennifer Coolidge as the owner of two-time champion poodle Rhapsody-in-White along with Jane Lynch as the limp-wristed trainer.
It's an unassuming spoof of what goes on behind the scenes that is rarely on-the-nose and has the same deadpan, self-serious style that has made Guest' movies so dang funny. The best part of the movie, even more than the uproarious cast of oddballs and screw-ups breeding the dogs, is Fred Willard as the fish out of water broadcaster of the dog show. Introduced in the second act, his hilariously moronic questions and naked candor steal the spotlight while making his fellow broadcasting partner (Jim Piddock) terribly uncomfortable. Of all the movies on this list, none made me laugh as hard as this one, and if you haven't seen I suggest doing so as soon as possible.
[divider top="no"]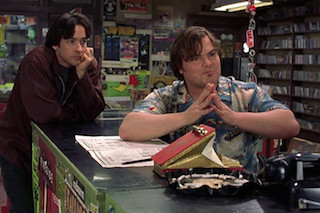 A movie for lovers of Top 5's! How could this be anywhere but #1 on my list? Besides being a movie filled with Top 5's and structured around a Top 5 narrative, Stephen Frears' High Fidelity is, in my opinion, the quintessential John Cusack movie along with Say Anything. It perfectly captures Cusack's easy-going, slackers style while also, in this movie, bringing in a neurotic and obsessive side that has made his character, Rob Gordon, a lovable reject. Or maybe it's a figment of his own insecurity. The movie explores his past failures and a quest to discover what makes him a reject. It's an honest view of broken relationships that is hopelessly real told in a way that it could only be told in a movie.
However, as much as I love Cusack in this movie, Jack Black was a revelation. I remember him being funny and thought it was merely a product of my high school mind, but Black is one of the best parts of this movie for his outlandish antics and child-like love of music and his own opinions. I love this move and love Black in it.