Last week, we looked at big name directors with movies released in 1985. This week, our attention turns to five movies that could be considered prestige movies. These are the movies that featured some of the best performers and biggest names in the business. They raked in the nominations and most of them delivered on the hardware.
These are not ranked in order of quality, so you are aware. This list is the top Oscar winners, so it is ranked by number of wins. Our first pick didn't win any Oscars, but got in based on the virtue of being too good to leave off and other Oscar winners have been on the list in previous weeks. That being said, let's jump into the lTop 5.
[divider top="no"]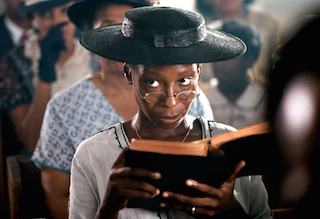 Of all the Spielberg movies I have ever seen, this has to be the one I was least familiar with going into this list. When I think of Spielberg I don't think of a powerful character piece about a young black woman who is abused amidst a bucolic landscape of purple flowers and idyllic small town life.
Nominated for 11 Oscars, but winning absolutely none of them, The Color Purple was a massive achievement for Spielberg and especially for the main star, Whoopi Goldberg as Celie. Whatever energy and skill Danny Glover brings as Goldberg's "master" and abuser and Akosua Busia as Celie's sister, Goldberg burns brighter in her first, and probably best, dramatic role. A profoundly spiritual film, more implicit than explicit, Celie's eventually blossoming from silent victim to beaming, resolute overcomer is one of the better cinematic moments of 1985.
[divider top="no"]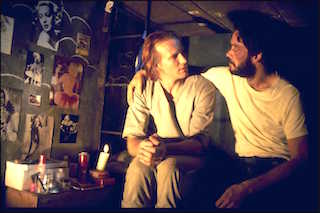 The only thing I ever remember Raul Julia for is his stint as Gomez Addams in the 90's Addams Family movies. However, this movie has given me an appreciation for the acting talent he has, as well as his counterpart in this movie, William Hurt. After recently catching up on Hurt starring in 1984's The Hit, a newfound love of their acting prowess is leading me down a path to catch up on all of their older roles. Most of this movie is about them and their budding, forbidden relationships, but it is about something so much more. I will leave Roger Ebert to sum up what I could not ever hope to say as well:
""Kiss of the Spider Woman" tells one of those rare and entrancing stories where one thing seems to happen while another thing is really happening. There are passages in the movie that seem to be absolutely self-contained, and then a word or gesture will reveal that they have depths we can only guess. By the end of the film, what started out as a contest between two opposite personalities has expanded into a choice between two completely different attitudes toward life. And the choice is not sexual, although for a long time it seems so. It is between freedom and slavery."
Stunning, beautiful, and haunting. A great movie that deserved far more Oscars than it received.
[divider top="no"]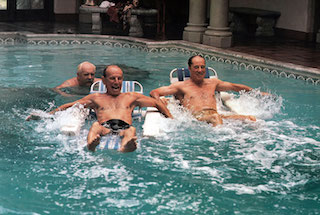 The not often seen Sci-Fi comedy from Ron Howard has flown under the radar, despite having won two Oscars. I found few reviews from major critics regarding the movie and anyone I did find usually had middling things to say about it. I'm not really sure how I feel about Howard's Sci-Fi movie about octogenarians encountering a strange, alien presence, but the movie has a uplifting and fun quality to it missing from most of the other Oscar nominated films on this list.
Probably the best quality of this movie is the muddled nature of its genre. You are left unsure throughout the movie if it is Sci-Fi, comedy, or drama, and it lends itself well when dealing with a plot focused on aliens taking over the bodies of older men and women and causing them to have heightened romantic libidos. Overall, if you read this as Sci-Fi or comedy you will not be disappointed, but as a drama it is too silly. Trust me, watch this and you will have fun and quite taken with the cast of characters.
[divider top="no"]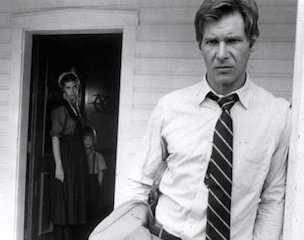 When a recently widowed woman from a Pennsylvania Amish community (Kelly McGillis) and her son, Samuel (Lukas Haas), take a train to Philadelphia, her son goes to the bathroom and through a crack in the stall witnesses a murder. When that murder turns out to be an undercover Philadelphia police officer, it is tasked to John Book (Harrison Ford) and his partner (Brent Jennings) to solve the murder. What Book uncovers is corrupt and scandalous and forces him to stay with Samuel, Rachel, and her father (Jan Rubes) to avoid becoming the next victim of the police force's corruption.
This may be my favorite movie of the bunch. The scale of this movie is pretty small, spending most of it's time in the delicate Amish farm country. The city, which is not seen very often, is a hard and corrupt place in total contrast. Book, a city man, enters this society to get away, but ends up fitting in and being taken with the lifestyle. Rachel, hurting from the death of her husband, finds comfort in the fatherly-like presence of John. He is there to protect Samuel and himself, and Rachel is smitten. John, never one to settle down before, is forced to slow his pace and falls for Rachel, as well. However, the presence of an "Englishman" like John is not welcome in the strict Amish community and Eli, Rachel's father, and Daniel, a potential suitor for the widowed Rachel, are short and disapproving of John's presence.
All of this is communicated through simple plot elements and long, effective gazes. The true beauty and genius of Witness is the slight glances, the non-verbal communication, and faces. Close-ups of the head and face are constantly used in tandem with reverse shots to convey dialogue without a word being spoken. Multiple important steps in Rachel and John's relationship are wordless, longing gazes; as are John's relationship with Daniel and Eli. It's so beautifully done by director Peter Weir that is massively affecting and deeply communicative. A well put together movie with incredible performances.
[divider top="no"]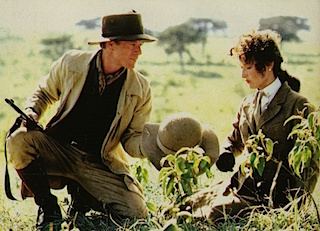 If this was ranked by quality of movie, I would probably put this movie at #5. However, since the list is by top Oscar gets, the movie comes in first. What frustrates me so much about the Academy is, sometimes, how it gets swept up in hype and seems to fixate on one aspect of this movie at the expense of everything else.
Out of Africa is very strong on performances and chemistry. Robert Redford and Meryl Streep are simply amazing and the romantic relationship between them is believable and as beautiful as the African landscapes frequently in the background and in establishing shots. You can tell Pollack masterfully created this movie with technical precision and an eye for the beauty of the African continent.
However, the slow, poetic pacing of the movie is its downfall. Sometimes, slow movies can be lauded for slowly unfolding a story, but this movie suffers from an egregiously long run-time of 161 minutes that is more boring than unfolding. Ran, another 1985 movie we already talked about, is one minute longer but never stops; teeming with kinetic dissonance and long takes that draw out pain and suffering. Pollack's lingering seems to be a dearth of story and not enough interesting bits to make it last. It's a very beautiful movie, and is a moving story, but it is too long.  Sounds like something the Academy would love and it's four Oscar wins proves it's quality and its lack of quality.