On this episode of the Reel World Theology Podcast: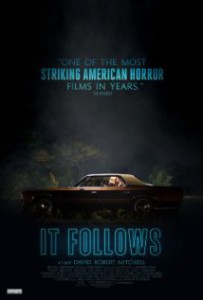 We are taking a look at a genre of film that we rarely get to address on the podcast; Horror. With most of the offerings from the horror genre being shallow, jump bait, or what some people would refer to as "gore porn," we rarely get to see what the genre has to offer. In It Follows, we get to see the horror genre shine by taking a look at something that truly scares us; sex. The stigma of a sexual encounter can have far reaching effects regardless of your beliefs or theology. We take a look at how It Follows plays on our fears, insecurities, and judgements behind sex and also how it is often used in the genre. Another great discussion and we hope you enjoy!
Download Episode 073 Here:
Reel World Theology #073 – It Follows and the Stigma of Sex
Reel World Theology on Stitcher
Reel World Theology on FeedBurner
This week's panel included Blaine Grimes and Josh Crabb.
Blaine Grimes (@Dept_of_Tourism)
Reel Thinking
Joshua Crabb (@HeyItsThatJosh)
RWT Contributor
13Past1 Blog
Podcast Notes and Links:
[youtube url="https://youtu.be/OaRx7iR9kXg"]
It Follows at IMDB
It Follows at Rotten Tomatoes
It Follows Review at Reel World Theology
It Follows Review at Christianity Today
Sex and Death in It Follows at Think Christian