The movie going season of 2015 is officially more than half over, and it seems to be an appropriate time to take a look back at some of the better movies of 2015. Instead of the normal list of really great movies that everyone has seen and loves (Mad Max, Inside Out, Avengers: Age of Ultron), I thought it would be cool and fun to forgo the normal Top 5 format and mention five lesser seen movies of 2015 that I have liked and/or loved. These are smaller films that had either little or no theatrical release, are available for you to watch right now through different formats other than the theater, and deserve your hard-earned money by renting them or buying them.
Honorable Mentions
Before continuing, some of the movies I didn't want to include in this list were either movies that have limited easy options to watch them, or they just missed my cut. Here are some quick blurbs about some of these movies that didn't make the list but are worth checking out:
Faults – A great and funny indie thriller about a cult leader and a family trying to wrest control of their daughter from this charismatic and creepy leader. The movie is available on iTunes and also on Netflix now! (Thanks to Colin Stacy for the heads up).
World of Tomorrow – Available on Vimeo, it is the latest short from acclaimed animator Don Hertzfeldt. Stunningly beautiful and profoundly interesting, Hertzfeldt has a twisted sense of humor mixed in with his philosophical musings. This 15 minute short would be my favorite movie of there year, so far, if it was feature length I loved it that much. If you are unfamiliar with his work, his most touted and widely appreciated work, It's Such A Beautiful Day, is available on Netflix.
Kurt Cobain: Montage of Heck – There is more than one documentary feature on Kurt Cobain out this year, and if you see one see this HBO produced documentary. Focusing on Cobain's younger years and his relationships, it talks about the fame of Nirvana but it is far from the focus. It explores Cobain's artistic underpinnings and what made him who he was as a person and what emotional and relational factors led to his untimely death.
Now, on the the list of five movies that you probably haven't seen and should.
[divider top="no"]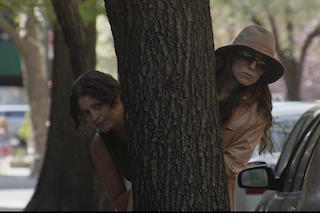 A funny and charming murder mystery (out of the ordinary in its own right) with a side of romantic dramedy. Written, directed, and starring Lawrence Michael Levine, it also stars his wife, Sophia Takal, as a Brooklyn couple with a relationship on the rocks. However, when Barri (Takal) suspects foul play in the death of their downstairs neighbor, she slowly drags her friend Jean (Alia Shawkat) into her Nancy Drew-esque sleuthing to uncover what she suspects really happened. Amidst this pursuit, Noah and Sophia's relationship is put to the test as Sophia's obsession with the "suspects" (Jason Ritter and Kevin Corrigan) and Noah's work pull them in opposite directions. The movie perfectly balances the dual plot threads of Noah and Sophia's relationship and this Clue-like murder mystery. When the two converge, its has hints of Woody Allen's crime comedies and a surprising and delightful ending chase scene. Saying more would ruin it, so make sure to check this one out. The movie is available to rent or buy on iTunes and now on Netflix.
[divider top="no"]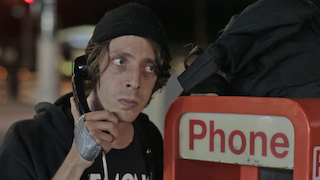 Written and directed by Joel Potrykus, it stars Joshua Burge as the paranoid and self-absorbed small-time scam artist Marty Jackitansky. From the opening scene we're introduced to Marty's conniving depravity. Potrykus has this great shot over a personal banker's shoulder as Marty closes down his checking account with the bank, only to open a new checking account with the money he received in cash to take advantage of a fifty dollar promotion the bank is offering when opening new accounts. The camera holds on Burge for five minutes solid as this whole scene unfolds, which is not an easy to pull off, and it intentionally develops a certain despicable likableness to Burge's Jackitansky. The icing on the cake and the best laugh of the scene is the reveal that Marty is a temp working for the very same bank in it's mortgage division. He doesn't technically work for them, he posits, so it's not against company policy for him to do this. It's absurdly clever and woefully pathetic swindling.
Clearly, nothing is sacred to Marty, and when his desire to work as little as possible, his disregard for others, and paranoia collide, he is taken on a bizarre odyssey hiding in his co-worker Derek's (Joel Potrykus) "party zone", a joke that pays off if you don't know what the "party zone" is, and fleeing to his hometown of Detriot. Buzzard is a queasy and uncomfortablly funny satire of the working world that feels like a twisted version of The Office; if Michael Scott didn't care about anyone and Dwight hated his job and still lived with his parents.
You can rent or buy this movie on iTunes and also stream it for free if you have an Amazon Prime subscription.
[divider top="no"]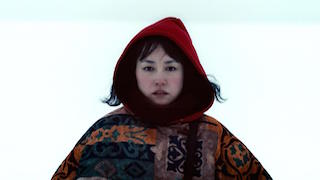 The premise of this movie is unique and intriguing, I had to check it out. Kumiko (Rinko Kikuchi), a detached and jaded late-20's Japanese office worker, likens herself as a modern day Spanish Conquistador destined to discover treasures. When she uncovers an old, damaged VHS copy of the movie Fargo, she takes this as her visual treasure map to uncover the untold riches, a bag of cash, Steve Buscemi's character buries in the snow. She obsesses over the video and when the expectations of a traditional lifestyle begin to creep up, she retreats from all contact with family, friends, work, and even her beloved rabbit, Bunzo, and boards a plane to Minnesota. Styled as her "New World", she embarks across the snow encased landscape of northern Minnesota armed with her homemade maps, notes, and research to uncover where she thinks the cash is buried.
The Zellner Brothers (David and Nathan) are meticulous in crafting the story of Kumiko. Beautifully photographed and cleverly told, the movie unfolds Kumiko's myopic, yet determined, journey that speaks to the power of living in fantasy but also its dangers and pitfalls. She is more at home in fantasy than reality and the trek she embarks on is both tragic and joyous, pointless and revelatory. Kikuchi is mesmerizing as the underwhelming and plain Kumiko and rightfully she is the best part of this movie. It is available to both rent and buy on Amazon and iTunes.
[divider top="no"]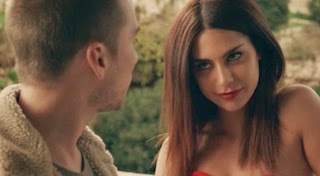 Aaron Moorhead and Justin Benson, the team behind the poor man's (or at least, "Indie man's") The Cabin In The Woods, 2012's Resolution, use the quieter and less terrifying dimensions of the horror genre to lovingly unpack the emotional complications and fears of commitment, intimacy, and enduring through pain and loss. Set mostly along a quaint seaside town in Italy, Spring boasts fabulous sun-kissed vistas and a tranquility befitting of the tourist destination in which it takes places. Evan (Lou Taylor Pucci) is a young college dropout taking care of his ailing mother. When a post-funeral bar fight, predicated by his fragile state after his mother's death, has him dodging the man he assaulted and the police, he boards a plane to Italy. After a brief tagalong with two UK denizens in Rome, he finds himself alone and without work in the unnamed seaside village where most of the film takes place.
Like any industrious young man would do when presented with no prospects for money or life, he finds work with a local farmer (Francesco Carnelutti) tending his orchard and finds love when he meets the stunning and mysterious Louise (Nadia Hilker). Initially meeting when he first came to the village, Evan had rebuffed Louise's surprising invitation to come back home with her to bed. Evan eventually wins over her protestations at a relationship and they begin to date. While both harboring pasts they are reluctant to share with one another, it is Louise who enters the relationship with a darker and more frightening secret than Evan could have ever feared. I'll save the suspense, as delving too much into the nature of Louise's identity is a portion of the unease that permeates the movie. 
Moorhead and Benson's latest cannot be classified as horror nor even necessarily living in the same neighborhood as horror. It's a dazzling YA romantic film tipped way to the adult side. It spoke to me in an extremely personal way and I highly recommend this movie. You can rent or buy the movie on iTunes, stream it for free on Amazon Prime, or also watch it if you have Vudu.
[divider top="no"]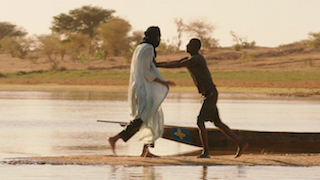 I recently had the opportunity to watch this film, and I regret not buying it right away and not having seen it sooner. Abderrahmane Sissako, a Mauritanian director, proves in this film he is a master of cinematic storytelling. Timbuktu is stunningly gorgeous and emotionally affecting storytelling about one town's cry of injustice towards those who would use religion to dominate and oppress. Taking place in a small town near Timbuktu and among the sandy dunes outside the town, a cattle herder (Ibrahim Ahmed) and his family are shaken by the presence of Jihadists in the town. When a tragic misunderstanding leads to their world colliding with that of the jihadists, the story exposes the ugliness of religious extremism as well as its absurd hypocrisy. Sissako's film is a poetic, groaning plea to the watching audience and to God for injustice and oppression to be removed from this small town. It's both timely and timeless and one of the more profound films I have seen in the past couple years.
You can rent or buy Timbuktu on Amazon and iTunes. However, I suggest buying it as you will want to watch this movie over and over.