Musicians can be some of the most enigmatic and interesting people to bring to life in the movies. There have been a couple recent Jimi Hendrix movies and documentaries, as well as the forthcoming movie about the Beach Boys' Brian Wilson, Love & Mercy. In fact, one of my favorite movies of the year, so far, is HBO's documentary on Nirvana frontman Kurt Cobain, Kurt Cobain: Montage of Heck. While documentaries can be especially interesting by uncovering a portion of a musicians previously behind-the-scenes life; the cinematic biopic is equally interesting in conveying a more thematic and narrative version of either a portion or cross-section of a musical artists life.
Since documentaries can be ubiquitous, given the proliferating nature of cameras and crowd-funding, it is much more interesting and wider focused to discuss the best of musician biopics. Spanning different genres and centuries, these Top 5 biopics bring some of the best performances and stories of musical artists told by Hollywood.
[divider top="no"]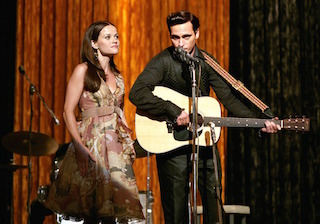 The 2005 biopic about "The Man in Black", the story of Johnny Cash's life is incredibly interesting even without being made into a movie. Spanning the course of Cash's life, from working in the cotton fields of Arkansas, to his rise with Sun Records in Memphis, as well as his relationship with June Carter, his addiction to drugs, and how he overcame his addictions and pain to maintain life and success the rest of his life. Joaquin Phoenix completely disappears into his role as Johnny Cash and is superb and nuanced in his approach to Cash's musical talents, as well as his personality. The real star of this movie, however, is Reese Witherspoon. June Carter always provided a unique window into the personality of Cash, and Witherspoon's superior performance snagged her an Oscar. Overall, a great film with intense themes of overcoming addiction, grace, new life, and love in the midst of pain and suffering.
[divider top="no"]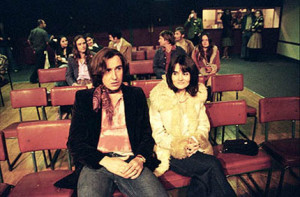 Just like the music scene it is covering, 24 Hour Party People is, as Roger Ebert described it, "inspired madness". A story about the famous Manchester music scene, it stars Steve Coogan as Tony Wilson, the head of Factory Records, the label famous for such Manchester-scene bands as Joy Division, New Order, A Certain Ratio, and others. It follows mostly Wilson's story, but the direction of Michael Winterbottom takes the movie into a craziness that makes it special. The story is insane in its own right, since it is about a raucous music scene, but the filmmaking frequently breaks the fourth-wall, includes cameos of the real-life versions of characters in the movie, and is just fast-paced and unrelenting like a trip on ecstasy, an important component of the movie's story, actually. Coogan is magnificent in his role, being both a funny person and dramatically sound, as is Andy Serkis as the surly records producer, Martin Hannett, and one of the rare roles we see Serkis not donning the dots of a motion capture suit.
[divider top="no"]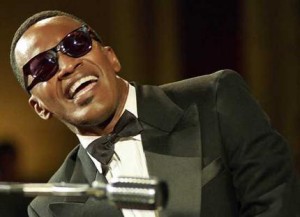 It is incredibly frustrating when people site Jamie Foxx's performance as Ray Charles in the 2004 film, Ray, as the textbook example of doing a biopic to snag an Oscar. Foxx IS Ray Charles and Charles' story is incredible, affecting, and difficult. Not only was Ray Charles a black man performing in a white man's world, he was blind. A whole other set of complications and prejudices are attached to living your life not being able to see. It's a story of tragedy, hardship, perseverance, and the power of music and a passion. There are few performances you will ever see that reach the ability of what Foxx pulls off in Ray. He has all the charisma, voice, and style of Ray Charles and it is a powerful performance.
[divider top="no"]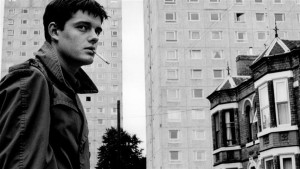 A biopic about Ian Curtis, the brooding and esoteric frontman of the previously mentioned Manchester music scene band, Joy Division. It was the feature film debut of Anton Corbijn, who you may know as the director of Philip Seymour Hoffman's last film, A Most Wanted Man. In the late 70's, Corbijn was a photographer for Joy Division and some his photographs of the band he shot for NME are featured in the film. Filmed in black and white and capturing the essence of this talented yet troubled rock star, Sam Riley is superb as Curtis and Toby Kebbell is incredibly loud, brash, and wonderful as Joy Division's manager, Rob Gretton. If you are looking for a great biopic double feature, pair this with the #4 movie on this list, 24 Hour Party People, and you are sure to have a delightful movie experience.
[divider top="no"]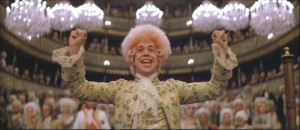 A rock star before there were rock stars, Amadeus Mozart was brazen, immoral, and rude, yet he was a bonafide genius. Directed by the famed Milos Forman and starring Tom Hulce as Mozart and F. Murray Abraham as Saleri, Mozart's pious and bitter rival; the movie Amadeus took home a staggering haul of eight Academy Awards, including Best Picture, and is regarded as one of the greater films of the 1980's. It's the rock star biopic complete with pianos, harpsichords, powdered wigs, and floofy dresses. If you haven't seen this movie, superlatives fall well short of commending this movie to you and you need to see it. It is cinematic beauty and acting performances of a quality all its own. The movie is told from the perspective of Saleri, now an old man and incredibly bitter at Mozart for his talent and bitter at God for giving Amadeus the prodigal talent. Mozart's life filtered through Saleri's mind and heart are a fascinating glimpse into the life of a sinner through the lens of a Pharisee. A whole-hearted recommendation for any fans of movies and theology. Heck, Tim Keller uses this movie a bunch in sermon illustrations, so you could even say it's endorsed by Keller himself (probably not).