It's that most wonderful month!  Merry Christmas everyone!   As we slowly creep along to those wonderful final weeks of December when family time is at a premium, the food is delicious, and movie watching is at an all-time high, we're turning our attention to the wonderful slate of films that get us in the mood for the season!  St. Nicholas Day is coming this Saturday, so hang those stocking by the fire, set out your shoes by the door, and watch out for Knecht Ruprecht as dreams of $5 dollar Blu-Rays dance in your head.  But before you do all that, let's look at the Top 5 Movie Santas and reflect on some of the best performances from actors who have donned the red and white garb of Old Saint Nick himself.
[divider top="no"]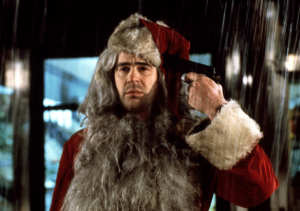 The 1980's version of the bad Santa, Aykroyd plays Louis Winthorpe III in this funny and well-done comedy co-starring Eddie Murphy.  Aykroyd, when donning the Santa outfit during the office Christmas party, tries to get his job back by planting drugs in his rivals' desk, played by Murphy.  When he is found out and his plan foiled, he brandishes a gun in order to get out unscathed and unmolested.  He is hilariously out of a job at this point and the dirty, soiled Santa outfit shows how far Aykroyd's character has fallen.  It would seem that Billy Bob Thorton is channeling his inner Winthorpe in the dark comedy Bad Santa, which would not come out until 20 years after Trading Places.  See Trading Places for more than this scene, however, since it is one of the better Aykroyd or Murphy comedies.
[divider top="no"]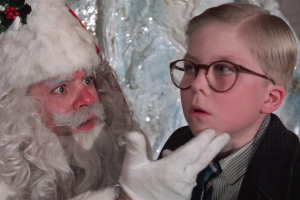 A Christmas classic of one boy's quest to obtain his ideal Christmas gift, his dream is diminished by the Department Store Santa in a horribly frightening scene where kids are sent down the slide after sitting on Santa's lap.  Ralphie desperately tries to climb back up the slide to wish for his Red Ryder Carbine Action 200-shot Range Model air rifle, only to be unceremoniously booted back down the slide with the advice, "You'll shoot your eye out kid," and the famous, "Ho-ho-ho," delivered in the most haunting way possible.  This has to be the creepiest Santa on the list and certainly makes any experience I had with mall Santas seem tame.  Still scares the fudge out of me.
[divider top="no"]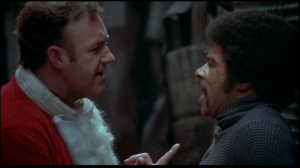 Nothing says, "Merry Christmas," like a St. Nicholas-style beat down.  After going undercover as a street Santa, Detective Jimmy Doyle (Gene Hackman) stakes out a suspect and moves in for the arrest after witnessing a drug deal, only to have the suspect try to escape on foot.  Doyle takes off running in full Santa garb, with his partner (Roy Schneider) right behind him.  After catching the suspect, Hackman and Schneider dish out some Christmas cheer and shake down the suspect until he revealed his connection to the heroin shipment they are after.  While just a small scene in the movie, Hackman proves Santa has some street cred in NYC and Old Saint Nick could hold his own pounding the pavement of the city streets.
[divider top="no"]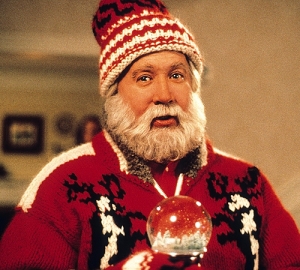 One of my favorite Christmas movies, ever, The Santa Clause brings us the North Pole and the workings of Santa. I also have a soft spot for Tim Allen since he reminds me of my dad.  Scott Calvin (Tim Allen), a downtrodden and divorced dad, he dons the Santa garb after being the unwitting witness to Santa's death and reading a clause that enacts as a verbal pact that transforms him into Santa Claus. Piles of goofball laughter and cornball antics result from Calvin balancing his life between being Santa and being a dad.  My favorite part of this movie is his interaction with his doctor as he transforms into Santa. If Santa were real–sorry, kids–he probably does need to lay off the milk and cookies, and it is only his magic Santa blood that keeps his arteries unclogged.
[divider top="no"]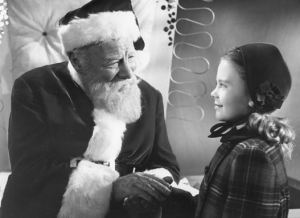 The #1 slot has to be reserved for the only Santa that makes me cry every dang year.  Every. Dang. Year. You guys.  Edmund Gwenn is essentially what Santa would look like if I ever imagined meeting a real-life Santa Claus.  He doesn't know everything but he is the personification of what Christmas is all about and is still mysterious and you're not really sure if he is or isn't the real Santa.  The movie plays perfectly on that balance and you go along on the emotional journey with the characters as they try to figure out if Kris Kringle is for real.  The part with the Danish girl and he sings to her in Danish, gets me every time.  And when they find his cane in the house they buy at the end of the movie.  I really love this movie and couldn't imagine Christmas without it and Gwenn's warm and wizened charm.