The early hype surrounding Disney's reimagination of Pete's Dragon is overwhelmingly positive, to the surprise of many. The original 1977 movie was never one of my favorites as a kid. I thought the dragon was super weird and Pete's abusive parents always scared me. They were so mean to Pete and my little mind could not fathom parents would be so terrible to their kids.
However, with the new movie featuring a CGI dragon, it had me slightly nostalgic for the mix of hand-drawn animation and live action actors in the original and in other great movies by Disney and others. Most likely an art form never to return to the big screen, it still is incredibly magical and incredible two completely different mediums could be combined to create a movie and still be believable. While some of the smaller scale and lower budget movies weren't as great, e.g. Cooltown and The Pagemaster, there are a handful of wonderful movies mixing live action and animation stretching back to the 60's.
As a quick caveat, while there are plenty of live action movies that utilize animation in a sequence or in an opening/closing credits, this list specifically deals with movies that utilize hand-drawn animation interacting with regular flesh and blood actors. This would exclude movies like Monty Python and the Holy Grail, which uses animation but is never in frame with the live actors at the same time. Also, The LEGO Movie might for utilizing a live action and stop motion aesthetic, but the animated portions are computer animated and not actually stop motion. So without any more fanfare, here is a list that may or may not bring your childhood roaring back.
[divider top="no"]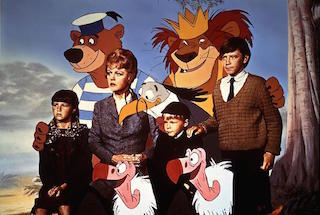 Coming seven years after Mary Poppins, Bedknobs and Broomsticks continued the mix of live action and animation and also, once again, featured David Tomlinson, who played Mr. Banks in Mary Poppins, in a starring role alongside Angela Lansbury. It also featured much of the same crew, animators, and musical composers, so the comparisons to Disney's most successful and prestigious movie from the 60's are apt. It is not nearly as good, but it is equally fun.
Something surprising I learned about this movie while revisiting the movie was its original length. When it debuted in theaters in 1971, the movie was two-and-a-half hours long. It was shortened down after its original release to two hours. The cut I watched as a kid was only 96 minutes long, which was taken from a theatrical cut produced in 1979. There is a ton of movie many of us may have never seen, so I want to get on this right away and find an original cut to enjoy the whole movie!
[divider top="no"]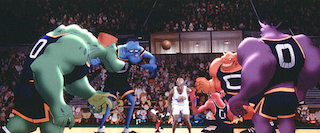 Combining the incredible star power of the NBA, Michael Jordan, and Looney Toons, Space Jam destroyed box offices and little children's minds when it came out in 1996. Utilizing a very silly alternate story for Michael Jordan's retirement and subsequent reentry into the NBA, the movie is super goofy, not that great, but makes this list for its sheer cultural saturation and the stellar use of animation and live action. The movie is completely seamless in its use, which many films using this mixed medium in the 90's cannot say, and it combines the timeless Looney Toon characters like Daffy, Porky, and Bugs along with famous NBA stars like Charles Barkley, Patrick Ewing, and Larry Bird along with Air Jordan himself. Even Bill Murray has to get in the act and has a great smaller part in the film as a friend of Jordan's and a guy who just wants to play ball like a star. It was everything cool and popular in the 1990's and will forever have a piece of my childhood heart.
[divider top="no"]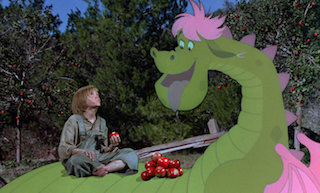 Even though I said the movie was super creepy, this film holds up better than the other animated/live action movie between it and Mary Poppins and the dragon is an unforgettable character. Also, by 1977, the animation and live action mix was even better and some of the most memorable scenes from the film are when the dragon's fire "burns" things in real life. As a kid, this blew my mind. How did they get the cartoon fire to burn stuff?
The greatest strength of Pete's Dragon is the impressive adult cast. Featuring Helen Reddy as Pete's eventual adoptive mother, she is the daughter of Lampie, played by the wonderful Mickey Rooney. Also, the cast of comedians are spectacular, including Jim Dale as Dr. Terminus, Red Buttons as his sidekick, and Jeff Conaway as on of the Gognan's sons, The movie is endearing, a lot of fun, and has some great music by Al Kasha and Joel Hirschhorn that was nominated for two academy awards, including Candle on the Water, which I can still sing along with. I may not have liked this movie as much as others when I was young, but it still has a place in my heart and is one of the better examples of animation and live action utilized effectively in the narrative.
[divider top="no"]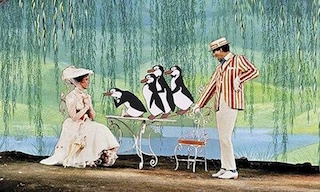 The bar for every movie featuring live action and animation coming after it, Mary Poppins still remains a delight and a film that will forever be considered one of Disney's greatest films. IF you've seen Saving Mr. Banks you know a lot about Walt Disney's passion for this particular story and the drama that went into the production. When it finally made it to the screen in 1964, it made Julie Andrews and Dick VanDyke stars and most of us can still recall exactly who they are today.
The enduring value of this movie for me, and now for my kid, lies in the musical numbers and the imaginative use of special effects and animation. I'll never forget the first time my kids saw Jane and Michael snap their fingers and their room cleans itself up or when they first started singing along to "It's a Jolly Holiday with Mary". It reminds me of being a kid and thinking anything is possible and that the world is the palette of my imagination. All I need is a creative mind and a chalk drawing of an English countryside.
Perhaps this movie deserves to be #1 as an all-time classic but stay with me on the final, top spot and I'm sure you'll agree with me.
[divider top="no"]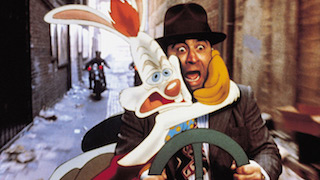 When it comes to animated movies mixed with live action, there can be no other movie at the top beside this one. Produced by Disney, Spielberg's Amblin Entertainment, and directed by Robert Zemeckis, it is the acme of using animated characters and live action actors. It was an incredible success at the box office, critically acclaimed, and won three Oscars for its masterful use of effects. In fact, it is often the movie credited with revitalizing interest in the Golden Age of American animation and paving the road for the modern animated movies. IT also returned Disney to prominence in animated features and led to a Renaissance of Disney animated movies starting with The Little Mermaid.
How does one even begin talking about this movie? It is an all-time classic. Styled on a classic Hollywood noir-thriller, the movie is a comedic tour of classic animation as well as an homage to the aforementioned noir genre. Bob Hoskins is great paired with the hapless and absurd Roger Rabbit and Christopher Lloyd is menacing as he is crazy as Judge Doom. How they managed to integrate animation in with Judge Doom's eventual reveal as a cartoon is beyond me, but that alone gave me both nightmares and fanciful daydreams in my grade school years. I could say so much more but will leave it you to pick up the conversation on this great film and the whole list!