The rare five-week Friday in a month brings us five whole weeks of streaming recommendations. Our contributors are still up to the task with a trio of great recommendations to keep your weekend busy. Don't say we never got your anything nice.
[divider top="no"]
via The Film Avenger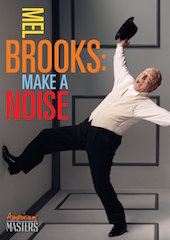 Mel Brooks: Make a Noise (Netflix) – Mel Brooks is one of my heroes of film. He has the incredible ability to make fun of even the most mundane aspects of life through both broad humor and subtle satire. He's also an equal-opportunity offender, which I appreciate (see my review of his masterpiece Blazing Saddles to read more about why his comedy is so important). This documentary was an excellent portrait of a man who knows who he is creatively and is very good at what he does. The interviews are all outstanding, with Brooks naturally being the best of them all. He's still very engaging, gregarious and funny – not taking himself too seriously. Moreover, I was touched by Brooks' sincerity, humility and gratitude about his life, career and the people with whom he's collaborated; they are traits that few possess in Holywood today.
[divider top="no"]
via Alexis Johnson
Gotham S.1 (Netflix) – If you feel like going on a show bender this weekend, I recommend Gotham. This is one of my favorite shows of the moment (currently in its second season on air). Just as the title implies, this shows centers around Gotham, the metropolis in the DC Universe in which the Batman comics take place. Though Gotham keeps the characters of the original canon, it is a re-imagining so you have to be willing to forsake any purist predilections and think outside the typical Batman box. I've personally really enjoyed this refreshing take on the story with all the twists and turns that come along with it.
The show centers mainly around young Detective Jim Gordon and his struggle with the corrupt system as a man desiring to restore justice and light back to his city. Bruce Wayne is a preteen/teen throughout this story, but his journey to becoming Batman is seen afresh through the lens of his youth. The production design has a deliciously dark Film Noir feel with incredibly stylish aesthetics in both set and costumes.
Though it starts out a little on-the-nose in the first few episodes, it really gets a firm grip by mid-season and never lets go. What makes this show really stand out is the colorful array of strong characters. I find myself connecting with both heroes and villains and really seeing them in deeper dimensions than most comic-based programs. Additionally, the cast is brilliant and incredibly diverse.
[divider top="no"]
via Blaine Grimes
Imagining Zootopia (YouTube) – Zootopia will end up being one of the best films of 2016, and it is certainly the smartest and most enjoyable film to come out of Disney Animation Studios in a long time. (Yes, I'm looking at you, Frozen.) Fans of Judy Hopps (Jennifer Goodwin) and Nick Wilde (Jason Bateman) will love Imagining Zootopia, a 45-minute behind the scenes documentary that chronicles the production of Disney's hit film. Among the short film's more revelatory insights is a segment that tells of the much darker, backstory-heavy version of Zootopia that was initially imagined by the creators. As much as anything else, however, Imagining Zootopia is a fascinating glimpse into the creative process filmmaking and storytelling at its finest.
[divider top="no"]