January has almost faded into obscurity but worry no further, our streaming recommendations never will. We pull out three more recommendations to warm up your weekend and put off shoveling the snow for one more day. Enjoy some of the best movies and TV from online streaming and have a happy movie watching weekend everyone!
[divider top="no"]
via The Film Avenger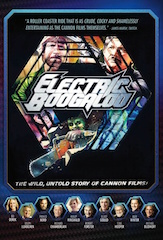 Electric Boogaloo: The Wild Untold Story of Cannon Films (Netflix) – In the 1980s, Cannon Films was the preeminent purveyor of b-level action movies and exploitation films. Today, Cannon is mostly known for killing the Christopher Reeve Superman franchise, launching the career of Chuck Norris, and producing the dumb but sort-of entertaining Masters of the Universe. This engaging documentary goes over the entire history of Cannon, its pseudo-success, and eventual downfall. Interviews include many of the writers, directors, and actors that worked for Cannon. What makes this documentary exceptional is how fair it is. Walking away from it, one could get how Menahem Golan and Yoram Globus were both shiftless hucksters who sold half-baked movie concepts to suckered studios, or two guys genuinely excited about film that didn't really have the taste or talent to back it up. Definitely worth checking out if you're a film history fan.
[divider top="no"]
via Josh Crabb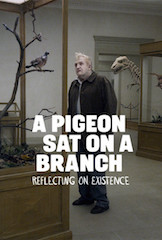 A Pigeon Sat On A Branch Reflecting on Existence (Netflix) – The latest film from Swedish director Roy Andersson, the movie made huge waves overseas and won a golden lion for Andersson at the Venice Film Festival. A movie with absurdist vignettes set around the story of two hapless novelty salesmen, this movie is like few you will watch this year. Truly a moving painting, each scene is sometimes funny, hard to decipher, and packed full of metaphor that is clearly in the eye of the beholder. Andersson has said the movie has less to do with formalism and more about how the images and content of the movie effect the viewer. And like any good art, it might confuse you, or delight you, depending on your mood, Point-of-view, etc. My biggest takeaway was the use of repetition as a way to bring comfort in life as well as innoculate us from breaking the mold or fighting an unjust status quo. Definitely worth a watch, but I can't guarantee you will make it through the hour-and-a-half length.
[divider top="no"]
via JR Forasteros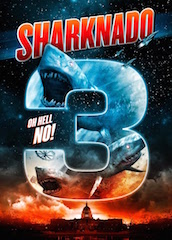 Sharknado 3 (Netflix) – Sharks in Space. And David Hasselhoff. What else do you need to know to sit down with Sharknado 3? I'm not trying to convince you to watch. I'm just letting you know it's available to stream now. If you want some great behind-the-scenes trivia, check out the Don't Split Up interview with Tye Lombardi, who was in charge of wardrobe (and a lot more) on the film!
[divider top="no"]