Done binge-watching your latest TV show? Out of brand new movies to watch and don't want to get off your couch this weekend to see a movie? Let our contributors' recommendations keep your retinas bathed in the warm glow of wonderful streaming movies and TV shows. Enjoy and happy movie watching weekend everyone!
[divider top="no"]
via Blaine Grimes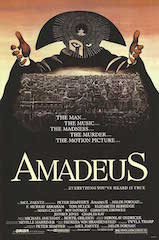 Amadeus (Netflix) – If you're harboring the notion that Classical composers were all prim and proper fuddy-duddies, then this movie is for you; If you're a fan of Mozart, amazing musical scores, compelling biopics and beautiful filmmaking, then this film is for you too. Winner of the 1985 Academy Award for Best Picture, as well as seven other Oscars, Amadeus tells the story of the brilliant composer-playboy, Wolfgang Mozart (Tom Hulce) and his rivalry with the lesser-known Antonio Salieri (F. Murray Abraham). Cinematographer Miroslav Ondrícek's stunning visual compositions will draw you in, and Hulce's eccentric portrayal of the film's title character will captivate you until the very end. From start to finish, Amadeus is a thoroughly engrossing tale that highlights the power of forgiveness given and withheld. Pair it with 2014's Whiplash for an irresistibly delicious (and musical) movie night.
[divider top="no"]
via Gene Gosewehr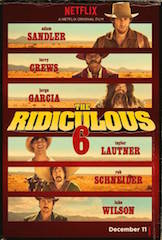 The Ridiculous 6 (Netflix) – I can't be the only person alive that doesn't hate Adam Sandler. Granted, his earlier stuff was far funnier than his latest work, but occasionally he strikes gold. If Netflix viewership is any indication it would appear he has done so with The Ridiculous Six. According to Verge.com, Sandler's latest work has taken Netflix by storm. So if, for no other reason than to talk about it with other people, there are surely worse ways to spend 90 minutes.
In all honesty, I have watched this and it really isn't very good. Nick Nolte is at his throat scratching worst, Taylor Lautner is an embarrassing joke and the rest of the clan probably had fun making it but clearly didn't care if what they were making was actually funny. There is one scene I enjoyed. It was about 1:00 in and it featured John Turturo explaining the rules of baseball to a group of Asian immigrants when our scatterbrained six come along. If you're a baseball fan I think you'll find some comedy in it because there isn't much anywhere else.
[divider top="no"]
via JR Forasteros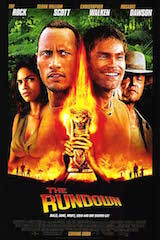 The Rundown (Netflix) – The Rock and Sean William Scott at the height of his Hey-I'm-Not-Stiffler-But-I'm-Still-Funny season. Is this movie pretty generic? Yes. Is the action good? Most definitely – especially when The Rock fights a bunch of Brazilian capoeira fighters. I'm not going to pretend that this film belongs in the annals of great action films. But if you like the Rock (and who doesn't?) and if you're at least marginally fond of Stiffler (especially when he's not so Stiffler), The Rundown is a great way to kill a couple of hours.
[divider top="no"]