If you have already seen Star Wars: The Force Awakens five times and need something other than John Williams music humming in your brain pans, lean on our trusty contributors to lend you their movie watching expertise. We have three excellent picks to fill up your weekend before Christmas and get you psyched up to go see The Force Awakens five MORE times.
[divider top="no"]
via JR Forasteros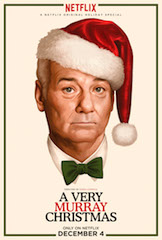 A Very Murray Christmas (Netflix) – A Very Murray Christmas is a Christmas variety show hosted by Bill Murray… except there's a terrible snowstorm so nobody shows up. "Nobody" apparently includes Tina Fey, Amy Pohler, Michael Cera, Miley Cyrus, Rashida Jones, Chris Rock, Maya Rudolph and possibly even Clooney himself. Needless to say, this is going to be a hilarious, irreverent holiday special that might land closer to the reason for the season than anyone expects.
[divider top="no"]
via The Film Avenger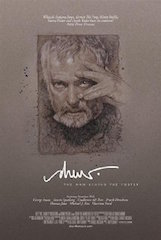 Drew: The Man Behind the Poster (Netflix) – If a movie poster has lingered in your mind from the last 40 years, chances are it was painted by Drew Struzan. This film legend has created over 150 posters for some of the most important movies of all time: the Star Wars Saga (including a teaser poster for The Force Awakens), Indiana Jones, Back to the Future, and many more. This documentary is not only about the artist's life, but his frustration about remaining relevant in a world dominated by Photoshop, which was partially responsible for his decision to retire. The film also contains great interviews with Drew himself, along with Steven Spielberg, George Lucas, Guillermo del Toro, Frank Darabont and Michael J. Fox.
[divider top="no"]
via Josh Crabb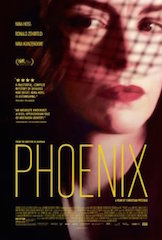 Phoenix (Netflix) – When Christian Petzold's 2014 thriller started winning accolades at overseas film festivals, early indications signaled Phoenix as a 2015 US release to see. After finally getting a chance to see it when it released on Netflix in early December, I can say it lived up to most of the hype. Artistically, it is pretty formal and Petzold doesn't do much with the nori-ish style and unraveling narrative tension the movie builds up. However, the payoff is in the last four minutes of the movie. It is my favorite ending of 2015 movies and the mic-drop last moment is worth the 94 minutes that precede it.
Nina Hoss, as Holocaust survivor Nelly Lenz, is brilliant. Before the war, she was a famous singer, but under mysterious circumstances, she is outed as a Jew and captured by the Nazis. After returning from the war, her face is mangled and unrecognizable after reconstructive surgery, and she is thought by her husband and friends to be dead. She plays the role with a fragility and brokenness of a Holocaust survivor, but also with a timid hopefulness to be reunited with her husband. I won't say more than that, but the movie builds tension around their eventual meeting and up to that aforementioned amazing ending which is worth the wait.