Let's cut right to the chase. You're going to see The Hunger Games: Mockingjay – Part 2, aren't you? Well, whether you are going Friday, Saturday, or even Sunday, you are going to need something else to watch, right? Look no further than the recommendations of our wonderful contributors in this three-fingered death punch of awesome recommendations. We lost the other two fingers in a jigsaw mishap.
[divider top="no"]
via JR Forasteros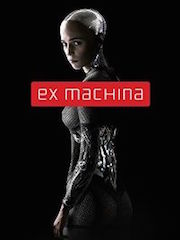 Ex Machina (Amazon Prime) – This little film is going to be on a ton of "Best of 2015" lists, so do yourself a favor and watch it. A creepy film about the potential of Artificial Intelligence, it has a cast of only 4 (including soon-to-be-Star-Wars-famous Oscar Isaac). Ex Machina will leave you deeply disturbed not so much about the inevitable AI revolution, but the sad state of humans who are hellbent on creating life in our own image.
[divider top="no"]
via the Film Avenger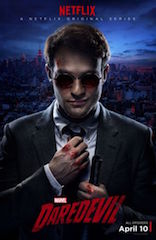 Daredevil (Netflix) – Before you go into the world of Jessica Jones, be sure to check out Marvel's first foray into Netflix original programming. This show is phenomenal, period. If your only memory of Daredevil was the Ben Affleck version, get ready to be blown away. All of the performances are stupendous, from Charlie Cox as the titular hero to Vincent D'Onofrio as his nemesis Wilson Fisk (the Kingpin). The series is a side of the Marvel Cinematic Universe that hasn't been touched until now, and the way they tie it to the films is absolutely brilliant. It's also much more adult than anything Marvel has ever done – dealing with heavy themes of loss, guilt and differing views of what it means to be a hero.
[divider top="no"]
via Josh Crabb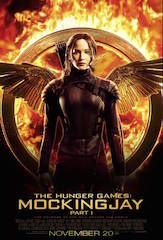 The Hunger Games: Mockingjay – Part 1 (Amazon Prime) – Continuing The Film Avenger's theme of "Before-You-Go", if you do happen to have plans to see Mockingjay – Part 2, Amazon Prime has been nice enough to make the first part available via Instant Streaming. So, make sure to re-visit this movie before you go see the final chapter. While I am reserving judgments on the last movie until I see the second part, as I stated in my review of Part 1 last year, I am still not high on this final installment. I'm afraid the story and the movies may have peaked in Catching Fire, but one thing I keep returning to is the performance of Jennifer Lawrence. Without her superb acting holding up these movies, there is no way the franchise would be as successful as it is. If there is one takeaway from the double-headed Mockingjay epic, it's Lawrence is destined for greatness in Hollywood. I won't miss anything she is in and the rule applies even for movies I might not enjoy a ton.