Another weekend, another slate of great movies from our contributors. Wait, you want to go outside? What's wrong with you? Take that laptop, phone, or tablet outside and enjoy the nice weather while sipping iced tea and enjoying our recommendations. Sheesh, you had me scared you wanted to go biking or something. The last thing we need is you trying to watch Netflix while biking. It's really hard to hear what's going on. Oh yeah, and you could get in a fatal accident. Don't do that. Stay inside. Or sit under the shade of a tree and enjoy our picks. You will not regret it and you will want to give us a million dollars. Or at least share this post.
[divider top="no"]
via Josh Crabb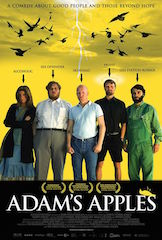 Adam's Apples (Amazon Prime) – This 2005 black comedy from Danish director Anders Thomas Jensen is one of the funniest movies I have seen in awhile. Starring Mads Mikkelsen as Ivan, a Protestant Pastor who takes in neo-Nazi and paroled prisoner Adam, played by Ulrich Thomsen, as a part of the church's halfway house program. Ivan, whose church is known for its apples growing on a big tree on the grounds, gives Adam a choice of setting a goal as part of his integration back into society. Adam chooses to learn how to bake an apple pie, a fitting choice. Adam begins to adjust to living at the church along with two other ex-cons but quickly comes to realize Ivan sees the world through an eternally rosy set of glasses. The ex-cons, who Ivan swears are reformed, still drink and steal but clearly admire Ivan.
The story is a riff on the book of Job and for a black comedy is surprisingly affecting. Jensen is clearly heavily influenced by fellow Danish director Lars Von Trier, employing a dark, operatic tone to the bigger scenes and a sense of the transcendent. While Jensen is much more explicit with Christian imagery and subtext, the setting is a church, he layers the story of Job over Ivan's and these three ex-cons function as Job's no good friends. Adam, being the most despicable of the bunch, is set on proving God hates Ivan, and the movie's journey to get there is emotional, melancholy, but at all times incredibly laugh-out-loud funny. Everytime Ali Kazim's Khalid is on-screen, be prepared to laugh uproariously. This foreign movie is well worth your time.
[divider top="no"]
Via Gene Gosewehr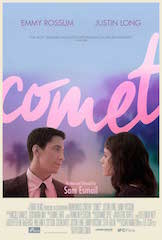 Comet (Netflix) – This film really caught me off guard in how much I liked it. Justin Long and Emily Rossum, two actors I like but don't love, are the focus of this romantic drama that is also a bit tragic at times. Prepare yourself for a mid of a mind-exercise, as this film is told through a disjointed timeline. Scenes from the lives of these two lovers are seemingly scattered randomly to create this film, and the viewer is often given only visual clues to piece them back together. On top of that, the cynicism of Long's character, and the quick-whit of Rossum's require you to always be engaged and following the dialogue or risk getting lost in their often endless wonderings about the meaning of this or that. I commented to the guys here at Reel World that your feelings on this film might just hinge on your liking of Justin Long as an actor. His quips and mannerisms are on full display, but I rather enjoyed it.
[divider top="no"]
via The Film Avenger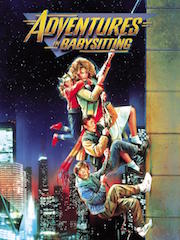 Adventures in Babysitting (Netflix) – This was a favorite of mine as a kid, and it still holds a special place in my heart. High school senior Chris Parker is hired by a suburban Chicago couple to babysit their two kids (and the son's pervy friend). When Chris' best friend desperately calls looking for help, Chris, and the kids travel to the big city to the rescue. A series of unfortunate events happens, and hilarity ensues. It's a very fun movie, with great performances all around. Chris Columbus made his directorial debut with this film, and it really displays his mastery of comedic timing and slapstick from the start. All the characters are very endearing and go through some kind of arc – even the pervy Darryl. I get a kick out of seeing a young Vincent D'Onofrio, who is most well-known today as Wilson Fisk in the Daredevil TV series, being mistaken for another Marvel character in this movie.