On this episode of the Reel World Theology Podcast: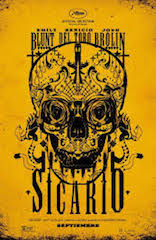 We bring in a Canadian to help us chat about a Canadian directed film that deals with the complete opposite side of America's borders. If that isn't enough, this film has left audiences stunned– or at least deeply contemplative– when leaving the theater. It's weighty themes of good v evil and right v wrong have made us stop and consider human nature in ways that few films this year have. We dive in while not forsaking conversations about some incredible performances and some unforgettable cinematography.
Download Episode 076 Here:
Reel World Theology #076 – Sicario and Standing Up to Evil
Reel World Theology on Stitcher
Reel World Theology on FeedBurner
This weeks' panel included Laura Fissel and Steve Norton.
Laura Fissel (@laura_fissel)
www.laurafissel.com
Who-ology
Steve Norton (@PastorStevePBC)
Screen Fish
Podcast Notes and Links:
[youtube url="https://youtu.be/7XLQ1bkSLDo"]
Sicario at IMDB
Sicario at Rotten Tomatoes
Sicario Review at Reel World Theology
Sicario Review at Reel Spirituality
Sicario Review at Reel-Gospel
Sicario Review at ScreenFish
Sicario Review at Christianity Today
Zealots of Violence: Sicario Creates a World That's Thrilling, Dark, and Our Own at Christ and Pop Culture