On this episode of Reel World: Rewind…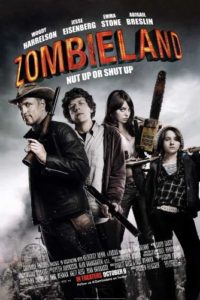 Josh finally gets Fizz back on Rewind to talk about a movie he loves to talk about, the 2009 Ruben Fleischer movie Zombieland. With the recent release of the surprise sequel, Zombieland: Double Tap, Fizz and Josh explore their history with the movie, as well as the delightful characters in this movie and one surprise appearance of Bill Murray in probably his best cameo/smaller role in a movie. Ultimately, this movie falls right into the Reel World wheelhouse as it is about belonging, community, and grace. Enjoy our October episode!
Download Episode #042 here:
Reel World: Rewind #042 – Zombieland
Reel World Theology on Stitcher
Reel World Theology on FeedBurner
Reel World Theology on Google Play

Podcast Notes and Links:
Like Reel World Theology on Facebook
Join our Reel World Theology Discussion Group on Facebook
Zombieland on IMDB and Rotten Tomatoes
[youtube url="https://www.youtube.com/watch?v=8m9EVP8X7N8″]
Music: "Dirt Rhodes" by Kevin MacLeod. Used under Creative Commons license 3.0.