The Oscar nominations are out, and you may need to get caught up before the end of February. However, if you are one those lucky few who have no need to get caught up and you are itching to get out to see new movies, we have the solution. Here is our weekly preview of new movies that include new Michael Bay, a follow-up comedy, and new animation. Let us know if any of these movies have you excited to make it out to the theaters this weekend!
[divider top="no"]
 
It's the Army-guys-with-beards movie from Michael Bay. Seriously, could it be any more obvious we want these military men to be seen as super-cool macho guys? Because beards, guys. A bevy of our contributors here at Reel World would agree that beards mean awesome. Oh yeah, and John Krasinski gets his own movie after his hilarious, grunting performance in Aloha that was one of the only bright spots on Cameron Crowe's cinematic wake.
Other than epic facial hair and Jim Halpert, there is no reason I want to see this movie. It may be based on some fascinating events, but I don't trust Michael Bay to give it any sense of informed speculation. I'm terrified the Transformers director has decided to take on recent, controversial history. I'm terrified. It could set off a revolution against Michael Bay. Well…actually, that doesn't sound all bad.
[divider top="no"]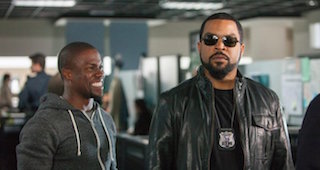 Settled firmly into the "Let's Be Cops" category of movies no one asked for, it's a sequel to the already not-so-good first Ride Along movie starring Kevin Hart and Ice Cube, my favorite of the acting Ices (not ISIS). I hate to disappoint you, but the first of these movies was not very good, so there seems to be little hope for the second. Kevin Hart is an acquired taste, and his movie choices as of late have been tragic and terrible. As for Mr. Cube, I can only assume he has done nothing since Barbershop 2.
[divider top="no"]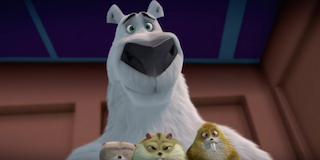 Currently holding a 3.6 on IMDb and holds a fat N/A on Rotten Tomatoes as of today. As far as ratings go, after they release it hardly ever goes up, so it does not look good for this Rob Schneider helmed vehicle.
The trailer for this movie does not look good at all. I've seen it a couple different times throughout 2015, and it seems to be a couple lame fart jokes and nothing else is funny. Even my kids, who love fart jokes, we'rent moved when going to see Inside Out this summer. That is saying something. These are the same kids I could not stop from going to see Minions. I tried, fine readers, I tried so hard. However, the good Lord has been kind to me and my family and has not made the trailer or this movie good. Yea, verily, and there was much rejoicing.