In Theaters Thursday is Reel World Theology's weekly look at new movies hitting the theaters near you this weekend.  We look at all nationwide releases, as well as some select limited releases that are piquing our interest.  Add your own comments or keep the conversation going on Facebook and Twitter and tell us what movies you are looking forward to this weekend!
---
OPENING IN WIDE RELEASE
Wild – Early review of this movie are saying that Wild is Reese Witherspoon's best performance ever.  She did a recent interview for Relevant Magazine that was pretty awesome and gives you a bit more insight into the choices she has started making as an actor.  I'm excited to see her getting back into good roles, like she did in Mud, and this sounds like an intriguing story.  It was a major hit at the Toronto International Film Festival, which is promising.  Check this one out if it is playing in your area this weekend.  The wide release can be a bit tricky, since it is not playing in my area this weekend, but it should be playing in most major metro markets.
The Pyramid – Team of scientists head into mysterious pyramid to unlock its secrets.  Team of scientists gets caught as they are picked off one by one.  Ahhhh, every scary movie ever!  Here is your horror fare for this weekend and it doesn't look nearly as good as the Babadook.
OPENING IN LIMITED RELEASE
Zero Motivation – Swept a bunch of Israeli film festivals, this is an interesting movie that could be very good.  It is not opening very widely, but it piqued my interest as it is a group of female soldiers, which is rare, and looks funny.  Worth your time if it is opening near you.
Pioneer – A deep sea thriller that reminds me of James Cameron's The Abyss, except not a Sci-Fi movie, but a thriller like The Deep.  A Norwegian movie that was part of the Special Presentation section of the Toronto Film Festival, it is set in the early 1980's and focuses on the competition between divers to go deeper and deeper into the Norwegian Sea to lay oil pipelines.  An interesting concept based on real events that looks like it will have some play and be something different in the 2014 cinematic offerings.
Comet – Now here is a limited release that I can get behind!  It looks really visually fascinating and stars Justin Long, star of Tusk and actor in many upcoming Kevin Smith projects.  It is about a romance that takes place over different alternate universes, which is such a cool concept on its surface.  It was given a pretty good recommendation by Slashfilm's Germain Lussier, which is a recommendation I am willing to follow, as their reviews and opinions are solid.
Life Partners – A comedy romance centered on two friends whose relationship is tested when one begins dating for the first time and the guy starts to come between them.  Looks like a normal coming-of-age story with comedic elements.  Debuting to mixed reviews, it features two major TV actresses(Leighton Meester and Gillian Jacobs) that are looking to make the jump to the big screen.  If you like Gossip Girl and Community, for those two actresses alone it might be worth your time.  It is also available on VOD and can be rented from Amazon Prime.
---
Jo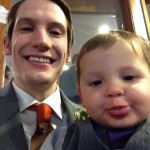 sh Crabb is an editor at Reel World Theology, as well as sometimes contributor to the Reel World Theology podcast.  You can connect with him on Facebook, Twitter, or on Letterboxd.