Last weekend was a great weekend in new movies! Ant-Man opened to a #1 finish and Trainwreck, the new Amy Schumer comedy, opened with a surprising and welcome $30 million. On top of that, both movies were quality movies! Victory!
This week, there is a big slate of wide releases. In fact, this is only the second time this year I have seen this much turnover from Thursday to Friday at my local movie theater. Check out the new wide releases and if you are in a major metro area, see if you are able to get a ticket to the one limited release we highlight. You're sure to be wowed!
[divider top="no"]
Opening In Wide Release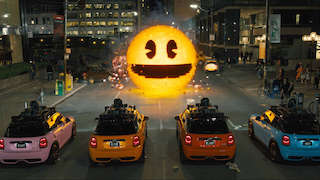 When you hear of a movie starring Adam Sandler, what do you think? Give yourself a second. Do you see his early comedies that were somewhat original, refreshing, despite their crassness and goofball, childish humor? Or do you see pretty much everything else, minus some interesting minor roles and Punch-Drunk Love, and maybe Spanglish? What do you picture in your mind? Don't tell me, just keep it to yourself, because what you imagine is probably what Pixels is going to be for you. Either an 8-bit, side-scrolling bit of fun or a smiling pile of poo emoji. There is no in between with Sandler, nor with Kevin James, and no amount of Tyrion Lannister could possibly save you from this movie if you imagine the latter instead of the former.
[divider top="no"]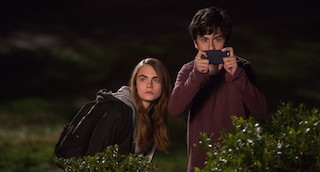 Highly touted in the trailers, this movie's story comes from the John Green, author of The Fault In Our Stars. One year after that movie assaulted the tear ducts of movie goers and especially teenage girls, Green's third YA Novel, Paper Towns, promises something a little bit less weepy and a lot more creepy.
Quentin (Nat Wolff) is an ordinary, nerdy loser at this high school. He has always had a crush on Margo (Cara Delevingne), one of the more popular girls in school. You know the drill. Their worlds collide and then Margo mysteriously disappears after their "one crazy night" getting revenge on Margo's cheating boyfriend by waxing his eyebrows and other pranks-y stuff. He then gathers his friends to go on a road trip to find where she disappeared to. It's a road movie, comedy, thriller drama. It has all the trappings of the coming-of-age story, so we can only hope this has some fresh life and originality. Early reviews say it does, so make sure to check it out this weekend and let us know what you thought.
[divider top="no"]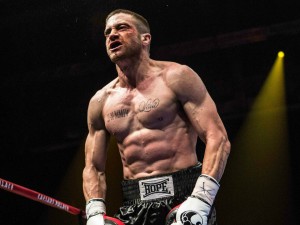 I'm always leery of any movie touting its lead as angling for an Oscar-nomination. While not the author of the hype, Jake Gyllenhaal seems to fall into the trap of this Oscar narrative every movie he stars in. He is obviously talented and many feel like he has been passed up for even being nominated, much less winning the Academy Award. Case in point, last year's Nightcrawler, that wowed with his physical and persona transformation into the sickly smooth hustler Lou Bloom. If he can't get nominated for that, the narrative goes, what does he have to do to get that ever elusive WIN?
Enter Southpaw. Gyllenhaal has transformed once again, this time into the sinewy, raging bull boxer Billy Hope. He has the chance to give a massive performance, pun intended, as well as add emotional depth around the story of a boxer putting his life back together after the death of his wife and losing his child to CPS. Directed by Antoine Fuqua and co-starring Rachel McAdams, Southpaw packs a ton of potential and is definitely worth a ticket this weekend, at the very least to eye up Gyllenhaal's performance.
[divider top="no"]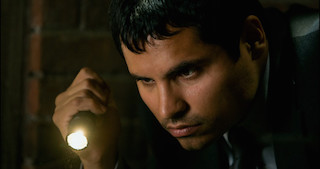 Ah, horror movies. The never ending slog of this genre can get tedious at times, but it never ceases to amaze me at the amount of horror movies that are constantly coming out. This one's story centers around exorcisms and two priests, one played by Michael Pena, waging war against a satanic force possessing one young woman (Olivia Taylor Dudley).
This movie is of no particular interest to me except when I dig a little deeper, I found that Olivia Taylor Dudley has a part in a local to me movie called Appleton. It's named after the city I love in and takes place in it, as well, and as far as I can tell it is a horror/thriller movie. Pretty cool, but it still doesn't make me want to go see The Vatican Tapes.
[divider top="no"]
Opening In Limited Release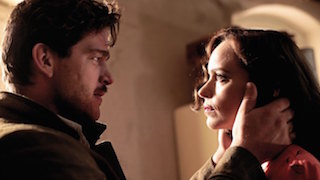 Not much for limited release, but the movie that is coming out this weekend has been cleaning up at film festivals overseas. Drawing comparisons to Alfred Hitchcock's Vertigo, this German language film has managed a limited release here in the US, and one can hope it will gain a bigger distribution in theaters or secure a quality digital and DVD release in the near future. 
Nina Hoss (A Most Wanted Man, Barbara) has been getting rave reviews for her performance as a disfigured survivor, Nelly, of the Holocaust who undergoes facial reconstructive surgery and searches for her husband in post-WWII Germany. What unfolds is a thriller/love story that will test Nelly's closest relationships as she navigates postwar life. It sounds and looks incredible, and please see it and let us know what you think if you get to see it!