For most of the movie watching world, there is only one movie coming out this weekend. While it would make sense to only highlight the most anticipated Marvel movie since, well, the last one, you don't want to miss out on some smaller movies coming out in the shadow of Captain America: Civil War. Since most of you will probably be excited to see the first major movie of the blockbuster season, let us know if you are looking forward to any of the limited releases!
[divider top="no"]
Opening in Wide Release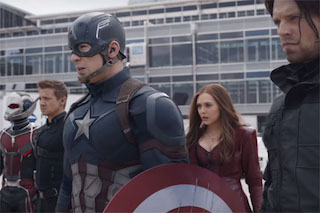 Much like the storyline of Batman v. Superman: Dawn of Justice, Captain America: Civil War is based on the revered but polarizing Marvel comic book storyline from 2006-07. All our favorite heroes are back, adding on some must anticipated new heroes and villains like Black Panther, played by Chadwick Boseman, Crossbones, reprised by Frank Grillo, and the much-hyped introduction of Tom Holland as Peter Parker/Spider-Man. It also gives bigger roles to Scarlet Witch, Bucky Barnes, Sharon Carter, and Ant-Man, who makes his first appearance in the MCU outside of his own movie.
Receiving a lot of praise as the best Marvel movie to date, Civil War's early returns have many people anxious and very excited to see this movie. While many Marvel comic book fans will be eager to see how the movie lines up with the original story, I'm excited to see what new directions they might carve. However, with Chris Evans' contract expiring and no confirmations of his involvement in future movies, many fans of Captain America are rightfully nervous this movie may follow the comic books to a "T", or in this case, a shattered "A". We may be pleasantly surprised, but it would be quite the bold stroke by Marvel as it opens Phase 3 of the MCU.
[divider top="no"]
Opening In Limited Release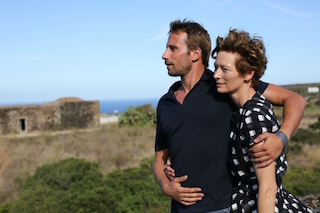 In more news about movies that seem to materialize out of nowhere, Tilda Swinton and Ralph Fiennes star in a festival film that won multiple awards when it debuted at the Venice Film Festival last Fall. Swinton plays a famous rock star vacationing after a long tour with her husband, a famous filmmaker played by Matthias Schoenaerts. Things get complicated when an old friend, played by Ralph Fiennes, shows up bringing his daughter (Dakota Johnson) in tow. The movie centers on the tension created by Fiennes character, an ex-lover of Swinton's character, injecting himself into their quaint, peaceful retreat. Clearly an "actors' movie" meant to showcase their individual acting prowess, Swinton has been hyped as the major gem of this movie. She is a splendid actor and although it only releases in LA and NY this weekend, it will be rolling out wider in the weeks to come. Check it out as soon as you can!
[divider top="no"]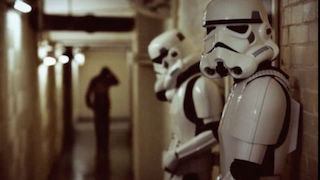 The perfect movie to celebrate shortly after Star Wars Day, some of us here at Reel World have been hotly anticipating the release of this movie. Venturing back to 1976, the movie interviews actors with smaller, but iconic roles in the original Star Wars movie and its sequel, The Empire Strikes Back. Some of the main actors included are Jeremy Bulloch, who played Boba Fett, David Prowse, the man inside the Darth Vader suit, as well as some of the extras on set who played different X-Wing and Y-Wing pilots in the attack on the Death Star. Too bad Dennis Lawson, who played Wedge Antilles and is the uncle of Ewan MacGregor, didn't rescind his total hatred of his involvement in Star Wars to talk about the movies. Oh well, I can take Boba Fett, Vader, Biggs, some stormtroopers, and Greedo. I cannot wait to be able to see this!
[divider top="no"]