On this episode of the Reel World Theology Podcast: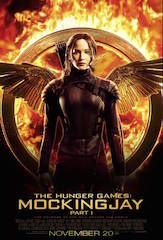 Years after The Hunger Games began taking popular culture by storm, we now arrive at a place where we get to see the story come to a conclusion cinematically. Would the films stay true to the source material considering so many were divided on the ending of this wildly popular series– or would there be changes? Can the emotion and social questions really be presented on screen in a way that have the same impact as in the books? Well, we have enjoyed the ride so far, and our panel is ready to dive back in for one final romp through Panem.
Download Episode 081 Here:
Reel World Theology #081 – Mockingjay, Pt.2 and the Power of Love
Reel World Theology on Stitcher
Reel World Theology on FeedBurner
This weeks' panel included Erienne Jones and Matt Anderson.
Erienne Jones (@ErienneJones)
Some Call Me Crunchy
Matt Anderson (@manderson555)
The Sci-Fi Christian (@scifichristian)
Comic Book Time Machine
Podcast Notes and Links:
Mockingjay, Pt.2 at IMDB
Mockingjay, Pt.2 at Rotten Tomatoes
Mockingjay, Pt.2  Review at Reel World Theology
Mockingjay, Pt.2  Review at Reel-Gospel
Mockingjay, Pt.2  Review at Reel Spirituality
Mockingjay, Pt.2  Review at Larsen on Film
Mockingjay's Syrian Refugees at Think Christian
What The Hunger Games Taught Three Millennials at Christianity Today