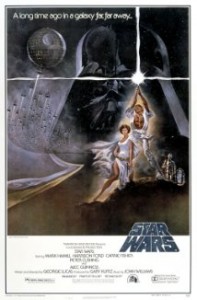 On this minisode:
After making it through the prequels, we finally get to the original trilogy. A New Hope marks the launch of one of the greatest and most influential franchises in entertainment history. After its introduction, "lightsaber" would be a term synonymous with science fiction and "the force" would be something that kids of all ages would run around trying to harness. What impact did it have for panel and the cultures we grew up in?
Download minisode 004 Here:
Reel World Theology minisode #004 – Star Wars: Episode IV – A New Hope
Reel World Theology on Stitcher
Reel World Theology on FeedBurner
This episode's panel included JR Forasteros and Joe Darnell.
JR Forasteros (@jrforasteros)
JRForasteros.com
NorvilleRogers.com
The Storymen Podcast
Origami Elephants Podcast
Joe Darnell (@_JoeDarnell)
Moviebyte Podcast
TechTonic Podcast
Top Brew Podcast
Podcast Notes and Links:
[youtube url="https://youtu.be/vZ734NWnAHA"]
Star Wars: Episode IV – A New Hope at IMDB
Star Wars: Episode IV – A New Hope at Rotten Tomatoes