Welcome Whovians, to the new incarnation of Who·ology here on Reel World Theology. Unlike the return of Missy to this season of Doctor Who, we have reasons for the regeneration of this weekly feature from podcast to written review, but suffice to say, we still love Who and still plan to bring you our take on it each week to hopefully stir some discussion. So let's get to it!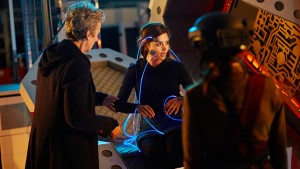 Let's go ahead and get this out of the way- this episode obviously wasn't up to par with the rest of the season. That's ok, though. It doesn't make it a bad episode, and I really think we needed it when we got it. I heard and read a lot of complaints about this week's episode, and I understand them to a degree. But I personally liked it a lot. I think it's vintage Doctor Who and it was a fun trek, properly placed amidst some recent heavier-themed episodes.
This is our first true stand-alone episode of the season. As a result, I think it can feel a bit thin. But this is an episode that invites multiple viewings. Once you know the truth behind the footage, you get to go back and understand how deeply imbedded that function really is in what you just watched (that is, if you want to risk further exposure to the sandmen!) There are some holes in the episode; it's not perfect. But it's vintage Who because it takes something ordinary- in this case sleep "dust," or that eye gunk that builds up while you sleep- and uses it to scare the heck out of you in order to make you consider something about the human condition. I think it did these things quite well.
The Doctor: "Congratulations, Professor. You've revolutionized the labor market. You've conquered nature."
Rassmussen: "Thank you."
The Doctor: "You've also created an abomination."
There's a lot in this episode about what makes us essentially human. This isn't just in the Morpheus dream machine stealing our rest, but also in 474- the human clone bred to be a soldier. This mirrors the underlying theme of identity that has been present throughout this entire season. Are we bodies bred for function, or souls created for a greater purpose? This episode provides an illustration of what can result from living as the former- treating ourselves, and mankind in general, as simply bodies for a function can ultimately create abominations. We don't actually have sandmen monsters, but we do have abominations like war, slavery, dictators and drug lords.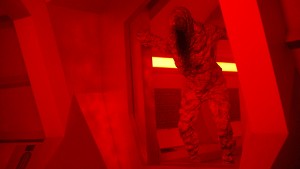 As the Doctor says more than once, sleep is essential. More so, rest is essential and something we should cherish, not consider a nuisance. Biblically, rest is ever present. It's part of the creation story- on the seventh day, God rested. The seventh day of rest is just as important as the other six days. Jesus called for the weary and burdened to come to him, and he would give them rest.
David was a king. There are few positions busier or more stressful than running a kingdom. Psalm 23 is probably the most well known of all his Psalms, and I'm willing to bet you glanced right over in this review it instead of reading it. If you take a closer look, though, notice that David said He makes me lie down in green pastures. David doesn't say he just rested on his own in those green pastures. God made him do it. He led David beside still waters and He restored his soul. Rest is important enough to God that He'll make you do it.
I don't think lack of rest directly creates abominations necessarily, but I think it's a good place to start to avoid them. Though if mankind can make a few extra bucks by eliminating the need for sleep, you bet your bottom dollar we'll do it. I think this is a spot on commentary. The episode is set in the 38th century, and I'm willing to bet it wouldn't take humanity even that long to commoditize sleep deprivation. Most of the first world, specifically in the American culture, pushes for more efficiency at the cost of rest. The Morpheus machine seems just as plausible to me in a mere 17 years as it does in 1700.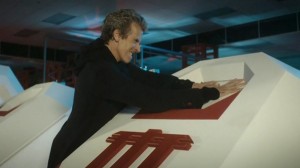 This is a classic it'll-never-happen-to-me scenario. We think the idea of abandoning rest almost completely for more work seems ludicrous now. We think we'll be sensible enough to stay on guard, watching for the thread that would unravel us into abomination creation. But inevitably we will get distracted for a moment. We will become comfortable, sit back on our couches watching a great episode of television and forget to be wary. That's the great subversion of this episode. Just as in reality, we often don't realize that all along the entertainment we are devouring could be the very thing growing the abomination that seeks to devour us.
This was a bit of a lengthy review. If you read the entire thing, I thank you. But your eyes might be tired. Best give them a good rub just in case, you know?
Next Time on Who·ology: A raven is symbolic of a lot of things; none of them are usually any good. Previews show the Doctor back in his finer suit for the first time this season. Did he just tire of the hoodie, or is he in mourning for what he knows is coming? I actually believe this episode is Clara's last. Here's hoping she is sent off in epic fashion, with meaning and resonance.
[youtube url="https://youtu.be/tGGJeQVQdS8″]