On this episode of the Reel World Theology Podcast: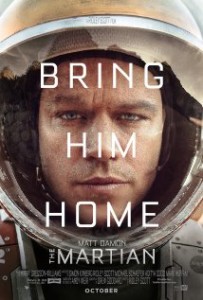 We have been eagerly awaiting the Fall movie season so we can begin sitting back and enjoying what has become the best season for film each year. The Martian plants that flag in a way that we hope signals the beginning of the best. The film itself is a lot of fun while still maintaining a solid level of suspense. This becomes our yearly "space film" but finds a way to carve out a more hopeful and less introspective tone than its predecessors while sporting an incredible ensemble cast. Is that ok? Does it work? We have a great time determining just that!
Download Episode 075 Here:
Reel World Theology #075 – The Martian and Earthly Optimism
Reel World Theology on Stitcher
Reel World Theology on FeedBurner
This weeks' panel included Wade Bearden and Elijah Lovejoy.
Wade Bearden (@WadeHance)
Wade Bearden on Facebook
WadeBearden.com
Seeing and Believing Podcast
Elijah Lovejoy
Church of the Redeemer Greensboro
Podcast Notes and Links:
[youtube url="https://youtu.be/ej3ioOneTy8″]
The Martian (Book) at Wikipedia
The Martian at IMDB
The Martian at Rotten Tomatoes
The Martian Review at Reel World Theology
The Martian Review at Reel Spirituality
The Martian Review at Reel-Gospel
The Martian Review at Christianity Today
The Practical Salvation of The Martian at Think Christian
The Martian Screenwriter Talks F-Bombs, The Mars Movie Curse, and Ridley Scott at HitFix
Why NASA Helped Ridley Scott Create The Martian Film at PopSci