On this episode of the Reel World Theology Podcast: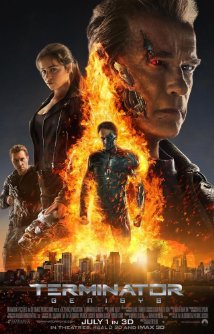 We ask the question that most reviewers seem to wonder: "Did we need another Terminator film?" Well, it sure isn't Oscar-worthy but we do talk about the positives of the fifth film (and sixth incarnation) of the series and list what is necessary for us to see and enjoy more films in the Terminator universe. We also discuss our love of time-travel films and how that brings us back every time to movies like this. Finally, we spend a great deal of time just attempting to understand what exactly is happening and ponder the idea that maybe even the filmmakers don't know. More speculation than actual theme in this one for sure.
Download Episode 066 Here:
Reel World Theology #066 – Terminator Genisys and the Complexities of Time Travel
Reel World Theology on Stitcher
This weeks panel included Ben Avery and JR Forasteros.
Ben Avery (@whisperingloon)
BenAvery.com
Strangers and Aliens Podcast
Welcome to Level Seven Podcast
JR Forasteros (@jrforasteros)
JRForasteros.com
NorvilleRogers.com
The Storymen Podcast
Origami Elephants Podcast
Podcast Notes and Links:
[youtube url="https://youtu.be/62E4FJTwSuc"]
The Terminator Franchise on Wikipedia
Terminator Genisys on IMDB
Terminator Genisys on Rotten Tomatoes
Terminator Genisys: Taking Our Best Guess at Let There Be Movies
Terminator Timelines Pt.1 at NorvilleRogers
Terminator Timelines Pt.2 at NorvilleRogers
Terminator Genisys Review at Christianity Today
Terminator Genisys Review at Reel Gospel