On this episode of the Reel World Theology Podcast: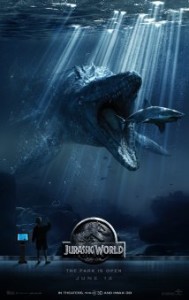 It would be a lie to say that there wasn't a lot of buzz about Jurassic World, but few people had very high expectations for this 20+ year sequel. While the audience reactions are divided between nostalgia and eye rolls, the box office has spoken very loudly and Jurassic World currently holds the record for highest grossing opening weekend in history. As usual, one of the hardest things for a blockbuster to do is entertain while also being thoughtful. And although Jurassic World throws out a lot of conversation bones about consumerism, greed, and self-enlightenment, it never really fleshes them out– so we do instead!
Download Episode 064 Here:
Reel World Theology #064 – Jurassic World and Human Greed
Reel World Theology on Stitcher
This week's panel included Laura Fissel and Mark Wingerter.
Laura Fissel (@laura_fissel)
www.LauraFissel.com
Mark Wingerter (@markwingdinger)
Writing:
Re-View Series
Podcast Notes and Links:
[youtube url="https://youtu.be/RFinNxS5KN4″]
Jurassic Park on IMDB
Jurassic World on IMDB
Jurassic World on Rotten Tomatoes
Jurassic World Review at Reel World Theology
Three Ways the Plot of Jurassic World is About Jurassic World the Movie at Slash Film
Jurassic World Review at Reel Gospel
Jurassic World: Settling for Dinosaurs on Your Cell Phone at WadeBearden.com
Jurassic World Review at Reel Spirituality
Jurassic World Review at Christianity Today