As much as you can call me a Whovian, there's another fandom term you could call me that I may even take more seriously than my love for the mad man in a box- Trekker. That's right, I'm a Star Trek junkie, specifically the Next Generation series, and these fandoms have collided many times, none more completely than when I read the Who/ Next Gen crossover comic series. So, you can probably guess my reaction as "Oxygen" opened with "Space- the Final Frontier." I Nearly broke my couch jumping out of my seat.
You can also probably guess how much I liked this episode. Our heroes fighting zombie-like robots trying to assimilate them aboard a space ship in distress? Crossed that bridge before (specifically on the NCC-1701-D) but man if I'm not a sucker for it. The Doctor and Bill were great stand-ins for Captain Picard and Data, the thrills were genuine and the suspense nail biting. This is a great Doctor Who episode, ya'll.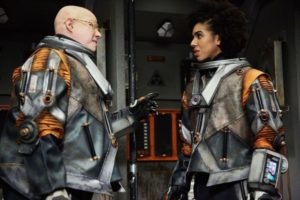 Oxygen takes us where Doctor Who hasn't been in a little while – straightforward into science fiction. For all intents and purposes, Doctor Who is really a science fantasy. But "Oxygen" sticks close to science fact, making it scarier when you realize that the danger is indeed quite probable. The vacuum of space looms above our heads every day.  Can you imagine if you had to pay a corporation for every breath you take? Cue up The Police song and cower in fear when Sting croons "oh, can't you see you belong to me?"
The easy message of the episode is, essentially, commoditizing something as necessary to life as oxygen is wrong. Seems like a preposterous, totally science fiction idea right? Stop for a moment and ask yourself how close we are to that concept. Debates have raged for centuries about which things necessary to life are able to be commoditized, regulated, and even outright infringed upon. Don't believe me? Check your Facebook feed. The health care debate is the hottest issue of the century. And now you might start turning your brain off at yet another political commentary. Bear with me.
I think the better question to ask ourselves is why would commoditizing oxygen be wrong? Beyond the obvious that it's necessary for life, it's because the act of freely giving to those around us is just as life enriching as the air we breathe. The Good Samaritan helped a man he didn't know for no reason other than it would bless the man. He probably didn't even stop to think about it being good. He just did it. He saved the man's life and imparted life into him through his actions. It cost him time, money, effort and a bit of risk, but he did it anyway.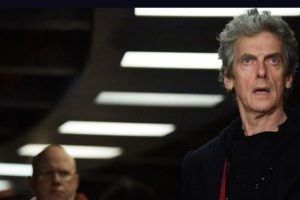 Sacrificial love is the only thing that gives life despite hindrances like regulation and commoditization. We now have a blind Doctor, another scar in the thousands of years of sacrificially fighting for the human race. The Doctor is a lord of time and space, but the greater mark of his heroism is that he doesn't bother to take the time to think about doing good. He just does it. Because it heals, it saves, it gives life. Like a Doctor should.
Season 10 keeps getting better with every episode. It's biting off some serious topics and taking us along on some scary thrill rides. It's true science fiction tradition we're seeing this season. The kind that even Trekkers would be proud of. I like where we are headed. So, Enterprise or no, I hope they keep punching it at warp nine.
Side note- One of my favorite moments in Twelve's run is when a member of the space station thanks him for saving their lives and he says "don't mention it." This is a subtle, but beautiful full-circle moment for the Doctor who saved a woman's life in "Into the Dalek" and complained that she didn't thank him.
Next Time on Who-ology:
Who is in that vault? It's gotta be Missy or another version of the Master, right? We'll see, even if the Doctor cannot right now. Looks like a lot going on in the next episode. Ghost monks? The Pope? Moffatt me once, shame on thee…