May you watch a movie this weekend? Yes, you may. Sick of May-related puns already? You may be entitled to punch me in the face. After delivering satisfying said retribution for calendar-based quips, enjoy a rousing round of refreshing recommendations from our contributors. You may now punch me in the face again for fleet-footed wordsmithery.
[divider top="no"]
via The Film Avenger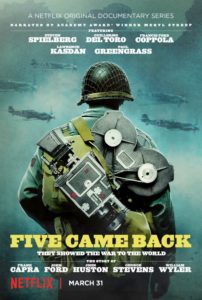 Five Came Back (Netflix) One of the most outstanding documentary series I've seen in quite some time. I'm a big World War II buff, and this film really turned me on to an aspect of the war effort I knew little about. I had no idea that five great filmmakers (John Ford, John Huston, Frank Capra, George Stevens and William Wyler) made such an enormous impact on how the war was seen by both the public and the military. Directed by Laurent Bouzereau, whose bonus features on multiple classic films are always first-rate, the series lays out each man's experience with the war, as well as their filmic contributions, and how those shaped their later endeavors. While they didn't engage in combat, they were on the front lines capturing the action – and their footage both changed public opinion and sealed the fate of Nazi war criminals. With all the annoying virtue signaling, smugness, and faux victimhood coming from today's Hollywood, it's hard to believe there was a time when American filmmakers would make actual sacrifices for the country and the world, and volunteer for a cause that was truly worth serving – and all without fanfare.
[divider top="no"]
via Blaine Grimes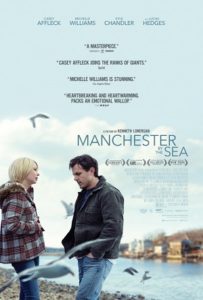 Manchester By The Sea (Amazon Prime) – My number one film of 2016 directed by Kenneth Lonergan, for which he won an Oscar for Best Adapted Screenplay. I love the measured pace Lonergan adopts in Manchester by the Sea. There are moments where the narrative could become trite or overly sentimental, and that is precisely when he backs away and lets the viewer wrestle with what is being shown. Ultimately, the film functions as a profound meditation on grief, and it is one that continues to haunt me to this day.
[divider top="no"]
via Josh Crabb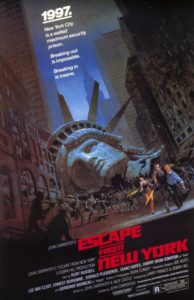 Escape from New York (Netflix) – Listen, it's no secret I am not the biggest fan of Kurt Russell, something Reed Lackey from More Than One Lesson and The Fear of God disagreed with strongly when we collaborated on a Top 5 John Carpenter movie list this past October. However, one role Russell was born to play was the straight antihero and he plays it so well in one of John Carpenter's better movies, Escape From New York. He growls and shoots his way through a dystopian future Carpenter has imagined as a stunning and harsh rebuke to American ideology. Like Paul Verhoeven would do six years later with Robocop, Carpenter's Snake Plissken is an action hero and a dark personification of a "true American". It is simultaneously everything we have come to love about watching movies from the 80's: campy yet iconic, action-packed yet goofy, serious yet satirical. Catch this one while it's still on Netflix. They tend to have one Carpenter movie at a time, and for the longest time Escape From LA, a far inferior movie was the only one available.
[divider top="no"]