On this episode of Reel World: Rewind…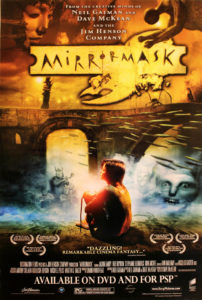 Josh is joined by Reel World staff member David Atwell to talk about the 2005 movie, MirrorMask. A UK-based movie produced by Jim Henson Studios, MirrorMask was written by renowned comic book writer and author Neil Gaiman and directed by comic book artist and illustrator Dave McKean. While there might be more famous movies about similar themes, Gaiman and McKean's movie dives into intriguing concepts of handling complex emotions, as well as being artistically bold and visually arresting. David and Josh talk about how the movie addresses grief, growing up, as well as comparing the movie to other fantasy movies featuring a female protagonist like Labyrinth, The Wizard of Oz, and Pan's Labyrinth.
Download Episode #034 here:
Reel World: Rewind #034 – MirrorMask
Reel World Theology on Stitcher
Reel World Theology on FeedBurner
Reel World Theology on Google Play

Podcast Notes and Links:
Like Reel World Theology on Facebook
Join our Reel World Theology Discussion Group on Facebook
MirrorMask on IMDB and Rotten Tomatoes
[youtube url="https://www.youtube.com/watch?v=swrcKRVgeGI"]
Music: "Dirt Rhodes" by Kevin MacLeod. Used under Creative Commons license 3.0.