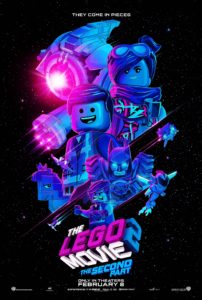 The release of The LEGO Movie in February of 2014 surprised everyone, including all of us at Reel World Theology. Having recently just got started and only releasing a couple shows a month, Fizz, Mark, and Joe Darnell went back to this movie in mid-September of 2014 because of how fun, well-done, and profound the movie ended up being. It was not only the big budget, wide release debut for LEGO movies and the Warner Animation Group, but the critical coming-out party for writers and directors Phil Lord and Christopher Miller. Their brand of mile-a-minute dialogue and observational comedy blended perfectly with the LEGO brand of direct-to-streaming/DVD movies majoring in pop culture in-jokes and apocryphal, yet reverent pastiches within different storytelling franchises. Delightfully dancing between fourth wall breaks and spoofing beloved characters traits and flaws, the multiple branded LEGO movies Lord and Miller have collaborated on captured the imaginations and split the sides of kids and adults alike.
The LEGO Movie 2: The Second Part is no exception. Produced by Lord and Miller and directed by animation and kids' movie veteran Mike Mitchell, the movie gets the whole band back together from the original 2014 movie and literally picks up right where the previous movie left off. Borrowing from post-The LEGO Movie influences like Mad Max: Fury Road and countless YA dystopias, the LEGO city of Bricksburg has been reborn as a gritty, post-apocalyptic world resulting from the destructive "aliens" from the planet Duplo. Since the real world/LEGO world divide had already been revealed in the original, it blends together gauzy scenes of Finn's (Jadon Sand) basement play area with Bricksburg as his sister Bianca, as The LEGO Movie ended on, is allowed to play with and bring in her own LEGO toys.
This new world finds our hero Emmet (Chris Pratt) and his cheery, positive disposition at odds with this new, more serious, grown-up world. Lucy/Wyldstyle (Elizabeth Banks) says as much and when Emmet's empathy and positive outlook leave Wyldstyle and his other friends in the clutches of a new, alien menace bent on uniting their two worlds by marrying Batman (Will Arnett) to their leader, Queen Watevra Wa'Nabi (Tiffany Haddish). Emmet must rescue his friends from the coming apocalypse of this unification by finding his grown-up, hard-edged side with the help of Rex Dangervest, also played by Chris Pratt. Meanwhile, Lucy must avoid succumbing to the glittery, pop music-saturated good vibes of Watevra Wa'Nabi's kingdom in the Sis-Star System.
Boasting a more realistic edge to the animation, which looks amazing and fits the updated theme of the movie, the sequel to Lord & Miller's 2014 movie maintains the same razor sharp, quick-witted humor as its predecessor. With fresh ammunition from years of superhero and big franchise movies, it incorporates jokes ranging from poking fun at the new-versus-old Aquaman to Chris Pratt's Star-Lord-esque character having a cadre of raptors as his starship's crew. Besides all these fun pop culture jokes, there are some hysterical gags on par with the best kids movie. The silly fun in The LEGO Movie 2 delivers with the same amount of delight as the previous LEGO movies.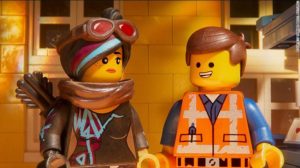 There has been some chatter about how their comedic stylings have run their course. However, the material taking jabs at newer developments in the DC and Marvel universes, as well as other blockbuster films, is still hilarious. The only aspect seeming to be running on empty is the use of Batman and his whole dark, brooding, loner type. If there hadn't already been two movies, one wholly devoted to Batman jokes, this movie would have made more sense to include him. Sorry Will Arnett, we still love you!
Two-thirds of the way through the film the viewer will be having tons of fun but unsure what the whole point of it is. In the final third, however, seemingly stray details from the previous parts of the story start to masterfully build together. It doesn't quite approach the storytelling heights of the flexible, everyman's tale of The LEGO Movie, but is a mature and cyclical outgrowth of previous themes explored in the first movie.
Mild spoilers for The LEGO Movie 2
Despite Finn having to teach his father to discover the sincere wonder inherent in playing with LEGOs, history repeats itself and Finn must come upon the same realization. A very explicit theme of the movie is Finn's inability to share and play with his little sister and how their fighting leads to them losing the privilege to have their LEGOs.  It's a seemingly-innocuous theme used with great power to illustrate a need for even tweens and teens to not lose their ability to imagine and have fun playing, especially with those closest to them. As a father, I have told my older kids countless times to find a way to play with their younger siblings: if they are copying them, stealing their stuff, and trying to play with them, it is because they look up to them and love them. Even if we deal in more serious, less all-the-time awesome things, the movie would tell us to not lose our cooperative, imaginative play and fight for this childlike joy.
If the movie stopped there, it would be fun and be great for kids. However, the movie delves into deeper territory when the final moments of Emmet and Lucy's story are revealed. The whole movie has been their quest to stop the denizens of the Sis-Star System; little do they realize, their combative and reactionary outlook is misguided and ill-informed. Their assumptions are not far from a more pessimistic and quick-to-judge outlook commensurate of the adult world. So often we assume an attitude of "us against them" that we destroy any chance at unification. We make enemies of potential friends and draw needless lines in the proverbial political, societal, and relational sands.
The LEGO Movie 2 stresses the need to build bridges instead of walls. The very idea of maintaining peace, both in the microcosm of sibling relationships and the in the macrocosm of society, is consistent with the idea of wholeness; or as it would be called in Hebrew, "Shalom." To draw up dividing lines and pursue discord are not the hallmarks of a grittier, harder edge to modern reality, but a sometimes unnecessary fabrication of conflict. We cannot be truly whole unless we are willing to lead with and pursue peace. While there is a time for division and to admit everything not being awesome, perhaps this modern age would be better served if we stick together and try to make everything awesome.