On this episode of Reel World: Rewind…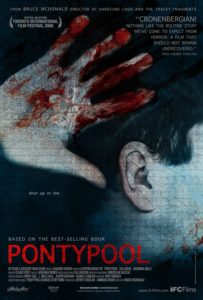 A cerebral zombie movie taking place at a small, local radio station in rural Canada about the zombie-like infection being spread by language has perhaps been the most difficult episode ever to record in the history of Rewind. Not one, not two, but count it, three times, Josh Crabb and Blake Collier have tried to record an episode on Bruce McDonald's 2008 horror movie, Pontypool. If you are seeing and hearing this, make sure to check out your window for a zombie apocalypse. If everything seems normal and safe, then listen to Blake and Josh talk about this movie's prophetic foretelling of the social media echo chamber, the power of words to destroy or redeem, and how the words we use are shaped by and shape meaning.
Download Episode #029 here:
Reel World: Rewind #029 – Pontypool
Reel World Theology on Stitcher
Reel World Theology on FeedBurner
Reel World Theology on Google Play

Podcast Notes and Links:
Like Reel World Theology on Facebook
Join our Reel World Theology Discussion Group on Facebook
Pontypool on IMDB and Rotten Tomatoes
Blake's article for Mockingbird "When Kiss Means Kill: Reflections on the Apocalypse of Language" 
[youtube url="https://www.youtube.com/watch?v=Ehq2a8lum_4″]
Music: "Dirt Rhodes" by Kevin MacLeod. Used under Creative Commons license 3.0.