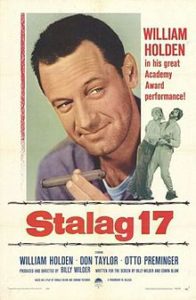 From the time World War II began to today's best picture nominee Hacksaw Ridge, there have been many, many great movies set in and around the second great war. With the sheer number of films in this sub-genre, especially those made within the decade or so after the war, it's easy to overlook the gems from over 70 years of storytelling. So let me tell you about one of my favorite films of all time.
Thanks to channels like AMC and TMC I got an education in enduring films throughout my childhood. My parents and I would regularly watch the classics, and my mother would eagerly fill me in on the history and background of the movies. Of all the ones I remember seeing, Stalag 17 has always stuck out in my mind the most. Directed by Billy Wilder, and starring superstar-of-the-day William Holden (who won a Best Actor Oscar for this role) the film is an adaptation of a Broadway play, and in my book is vastly underrated.
If you don't know, and you probably don't because it's a film that has been criminally all but forgotten over the years, the story is a fascinating and darkly humorous whodunit set in a POW camp in the winter of 1944. When two men attempt to escape and are quickly killed, the camp begins to suspect there is a German informant in their midst and a mystery to unmask the culprit begins.
Their chief suspect is Sgt. J.J. Sefton, played by Holden, who, unlike the loyal-to-a-fault soldiers around him, is cynical to the point of placing bets on the likelihood of the escapees' survival. His likeable aloofness and snarky truth telling makes him somewhat of an anti-hero, and the perfect focus for a film that isn't afraid deal with the heaviness still lingering in the post-war cultural air. Men are killed by machine gun fire, interrogated for information, given slop in a bucket for chow, have missing limbs and PTSD. This isn't exactly a comedy. But it is.
Billy Wilder was masterful at wrapping searing commentary inside delightful moments. Not an easy task. There are many bites at Nazis and the Geneva Convention, and even a few swings at examining GI Joe machismo. But what drives home the mystery is the focus on the community of men sharing a roof with an unknown informant out to get them. These men are so much fun to watch together, and you're invested in each of them. At the same time, they are visibly broken, bitter, shell shocked from war. The humor coupled with the stark reality of the situation allows you to examine it closer, drawing you in, somewhat safely, to the horror of it.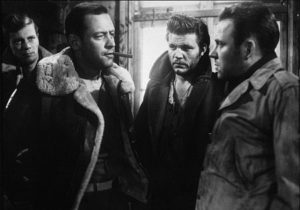 Sefton's attitude betrays his bitterness over what has become of him. He's cool about everything, but with an obvious twinge of pain about it all. In one scene with Lieutenant Dunbar who hails from his hometown, he mentions getting brushed aside for a command position while Dunbar's rich family gave him a silver platter. Just as the men do not want to be prisoners, Sefton doesn't want to be who he is.
It is Sefton's journey out of this bitterness that turns the tide. He finally fights for his men, in his own way, discovering the informant and saving Dunbar from certain death. It leads to a daring and fascinating final escape that is one of my favorite movie moments. The men finally admit they were wrong about Sefton, and while he does rub it in a little, he finally relents to being one of them.
The film, for all the fun it has, illustrates a blunt truth- that those who leave for war are not the same as those that return. It is echoed in the Civil War-era song "When Johnny Comes Marching Home" that haunts the move from beginning to end, and in Sefton's blistering final goodbye to his men as he makes his escape, "If I ever run into any of you bums on a street corner, just let's pretend we've never met before." These men became a community they needed in a situation they didn't ask for. And while they know it is one that will never be as true again, it makes for one that is fascinating to join in on for a few hours to see how the mystery plays out.