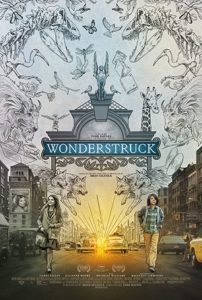 Adapted from Bryan Selznick's New York Times bestselling novel, Todd Haynes' (Carol, Far From Heaven) latest film Wonderstruck is an aptly named story for audiences of all ages. The film simultaneously follows two young protagonists Rose (Millicent Simmonds) and Ben (Oakes Fegley) who are on a journey of self-discovery, but their stories are unfolding 50 years apart.
Creatively, Haynes delineates the two stories, one in 1927 and the other in 1977, by juxtaposing black and white with color. It's a visually stunning technique and contributes to a feeling of curiosity and wonder. We are left to question as an audience when their two narratives will intersect, but as their stories unfold and clues come together, we're given a beautifully immersive experience that we get to sit in and enjoy. The film plays like a silent movie at times with punctuated sound effects and requires the audience to do some work to lip read or interpret body language.
Wonderstruck is primarily told from the perspective of a deaf person. We're made to assume Rose has been deaf from birth or at least a very young age, while Ben become deaf early on in the film as a result of a freak accident. Subsequently, the sounds, sights, and soundtrack are all heightened and there is minimal dialogue. Haynes sets us up for their respective adventures with simple and well-paced backstories. Rose feels unknown and not cared for by her wealthy father who doesn't take the time to understand her, but instead looks for the most convenient solution for himself to be able to live with his deaf daughter. She finds solace in a movie theater seat, enjoying the silent films which star Lillian Mayhew who we come to find out plays a larger part in Rose's story.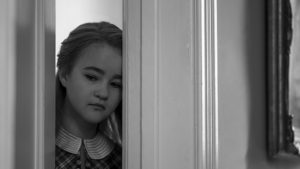 Ben is suffering the loss of his mother and is trying to put together the clues that will lead him to his father whose identity is a mystery to him. He is unhappily in the care of his aunt. The film deals powerfully with questions of belonging. It's a feeling we can all identify with, and Hayne's attempts at exploring these themes through the eyes of kids trying to understand the world, is a beautiful experience. Both characters run away to New York City where they believe they will find the answers they are seeking. Navigating the hustle and bustle of a large city like NYC is overwhelming no matter what time period, but it's especially fraught with danger when you're ten-years-old and deaf.
Ben and Rose rely on the kindness of strangers on their journey, and while there are intense moments, Haynes does an excellent job capturing the wonder of New York City a few decades apart. It's a love letter of sorts to the city that never sleeps. It follow that as Ben and Rose discover where they've come from and experience the pain of growing up, they start to understand the world and their place in it.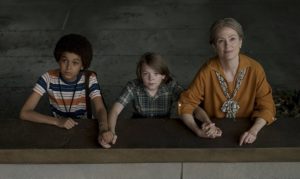 It seems all too convenient that the pieces would all come together just so as Ben and Rose explore their way through the city where their lives converge. It would seem that providence has a part to play instead of just chance. The magic of this story partly lies in the unexplained. If you are willing to embrace the mystery and just enjoy the artful and beautifully told story, you too might be wonderstruck.