This year our Reel World Theology Contributors all submitted their picks for Top 10 Best Films of 2015. We used a numeric scoring system to assign points to every movie that received votes and then counted up each team's score to form our Top 20 film list for 2015. We will be releasing our Top 20 list this week. Feel free to let us know what movies would have made your "Best of 2015" list. Today we continue with 10-6.
10. Love and Mercy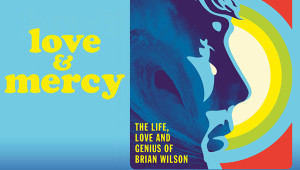 "For fans of the Beach Boys, it's a joyous celebration of their greatest album. For movie fans, it's a compassionate drama about relationship and Brian Wilson's complicated and troubled inner life. Telling a tale from two periods of Wilson's life, it is exuberant, tormented, arduous, and tender. While Brian Wilson is the focus, the emotional core and spirit of the movie are Elizabeth Banks' Melinda, who exemplifies love and mercy to a broken, but hopeful Wilson. After a second emotional viewing, this movie skyrocketed into my Top 5." -Josh Crabb
[divider top="no"]
9. Brooklyn
"It's beautiful, beautifully made, and subtly profound." -Blaine Grimes
Check out our Review of Brooklyn
*Look for a podcast episode on Brooklyn in February!
[divider top="no"]
8. Spotlight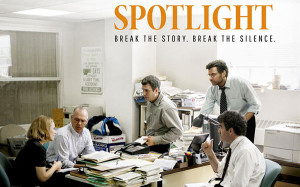 "I cried." -Griffin Kale
"Tom McCarthy's procedural approach to this difficult subject is utterly devastating. I sat in stunned silence as the credits rolled." -Blaine Grimes
*Look for a podcast episode on Spotlight in February!
[divider top="no"]
7. The Martian
"It's become a running joke that audiences continue to spend money to watch Matt Damon be rescued. I suppose the next logical rescue was from an alien planet. With The Martian, Ridley Scott took a real simple premise and made it smart, visually stimulating, quick-whitted and thrilling." -Gene Gosewehr
Check out our Podcast Episode on The Martian
or our Written Review
[divider top="no"]
6. Ex Machina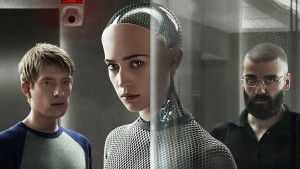 "Once you could find a showing of Ex Machina in a theater near you, you were able to understand what all the hype was about. Not only is this film profound and edge-of-your-seat engaging, but it unintentionally boasts three of the hottest young actors we would see making their mark in 2015." -Mikey Fissel
Check out our Podcast Episode on Ex Machina
or check out our review of Ex Machina