Award season is in full swing and there are few days that could make or break a movie's continued legacy than Oscar Nomination Day. This morning at 8:30 am EST the Academy of Motion Picture Arts and Sciences announced the 2016 (meaning the films released during the 2015 calendar year) nominations. The field has already been criticized for lacking any non-white nominees, but otherwise has met with the expectations that many people had. Regardless, there is always someone left out, whether a minor or egregious snub. Here are a few nominations that we feel are "should-have-beens" and who they could have replaced.
5. Quentin Tarantino, Best Original Screenplay, The Hateful Eight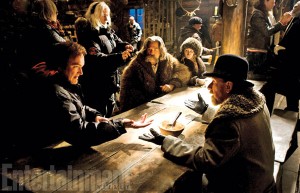 It doesn't surprise me that the totality of content in any particular Quentin Tarantino movie would be an acquired taste– especially in The Hateful Eight. That does not exclude it from being yet another incredibly creative and well fleshed out screenplay. The look and feel of the film are wholly unique and allows the viewer to explore characters and themes in a way that keeps you engaged the entire time.
Substitute: I would likely pass on a nomination for Bridge of Spies.
[divider top="no"]
4. Charlize Theron, Best Actress, Furiosa
You don't have to be overly observant to still notice the many nominations that Mad Max: Fury Road garnered. However, the film probably wouldn't have been a fan favorite at all if not for the intensity and commitment that Theron brought to Furiosa. The movie rose and fell on her every action and in a boys world, she out-shined them all. Bumpers and bodies were not the only things crushed in this film because Theron crushed this role.
Substitute: I know the Academy loves her, but Jennifer Lawrence didn't shine as bright as years past.
[divider top="no"]
3. Creed, Best Picture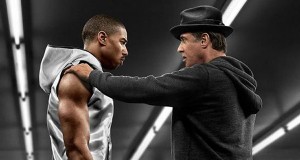 Seemed like a no-brainer after it's release that Creed was one of the best films of the year. Not only did it out-pace its audiences expectations, but with incredible performances and incredible direction, Creed actually is arguably better than the original Rocky film that it derived. Odd that this film which is impressive at every turn was not at least nominated for Best Picture when Rocky itself won Best Picture. Not enough love at all for this one.
Substitute: Honestly, Bridge of Spies was simply a fine film, and fine films are just that. Fine. Not Oscar-worthy.
[divider top="no"]
2. Aaron Sorkin, Best Adapted Screenplay, Steve Jobs
It is hard to believe anyone could leave a viewing of Steve Jobs and not be blown away by Aaron Sorkin's piles of dialogue. As we have come to expect, fast, clever, and always packing a punch, Sorkin's screenplay drives this non-traditional biopic about one of the most influential men in recent history. Heck, it was good enough to help Michael Fassbender secure a nomination for Best Actor (deserved). Besides, he just WON the Golden Globe. You'd think that would, at least, incite a nomination.
Substitute: Carol. While it starts strong, the screenplay seems to fall apart in the second half of the film.
[divider top="no"]
1. Ryan Coogler, Best Director, Creed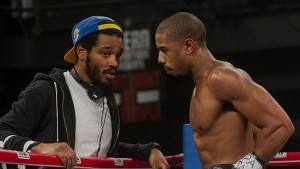 This should have been a no-brainer. If you want to assume that a boxing movie isn't the arthouse/indie fodder you usually see in the Best Picture category, then you're probably right (unless of course, we again mention the original Rocky won Best Picture over films like All the Presidents Men and Taxi Driver), but when it comes to directing, there were very few directing jobs that could compete with what Ryan Coogler did with Creed. The tracking shots in and out of the ring are almost too good to believe. Not only that, but he was able to get more out of Stallone than we have seen in years. Coogler is young but already appears to be at the top of his craft. Not to mention that this would have definitely helped with that pesky #AllWhiteOscar problem.
Substitute: It's a strong field, but it would be easiest to leave Lenny Abrahamson off this list.